**This page will be updated regularly as we aid Maui with relief. August 17, 2023 – Mahalo to all of those who have donated goods and items for Maui residents. At this time we are asking the donations to cease, and instead focus on our GoFundMe link which is down below. August 14, 2023- We […]
Maui-The fires on Maui have wreaked havoc on the community but more so on our members. The fire continues to spread with no end in sight. 1186 is counting on our members to help with donations for our members who lost their homes and all of their belongings. We will be taking donations on anything […]
Aloha brothers and sisters, As requested by your international office, please answer below survey from The Center for Construction Research and Training (CPWR) at your convenience in regards to bullying and harassment in the workplace. Please do so when you have about ten minutes free as this is the maximum amount of time it should take. Your participation […]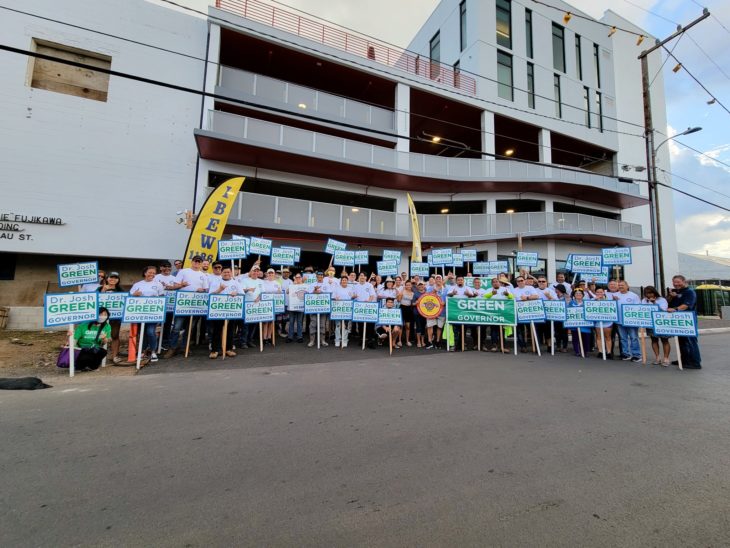 Honolulu-Members of IBEW Local 1186 and IBEW Local 1357 showed up in great support of Dr. Josh Green for Governor, waving signs for pau hana travelers on Dillingham Boulevard in Kalihi on Thursday, August 4th. Mahalo to all of those who came out to support, and we will see you at the next one before […]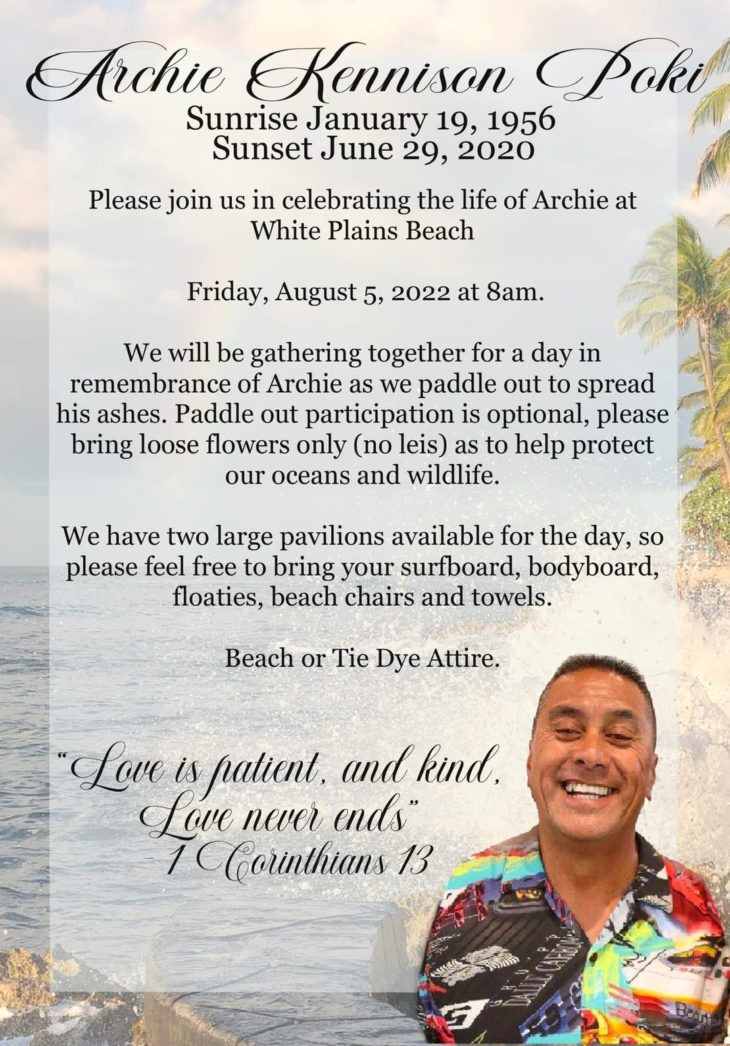 Honolulu-Aloha brothers and sisters, if you recall, in our August 2020 IBEW 1186 newsletter, we regretfully announced the passing of Brother Archie Kennison Poki. He will be remembered in a celebration of life on Friday, August 5, 2022 at White Plains Beach (see details in graphic above). As Brother Robert Aquino stated in his memoir […]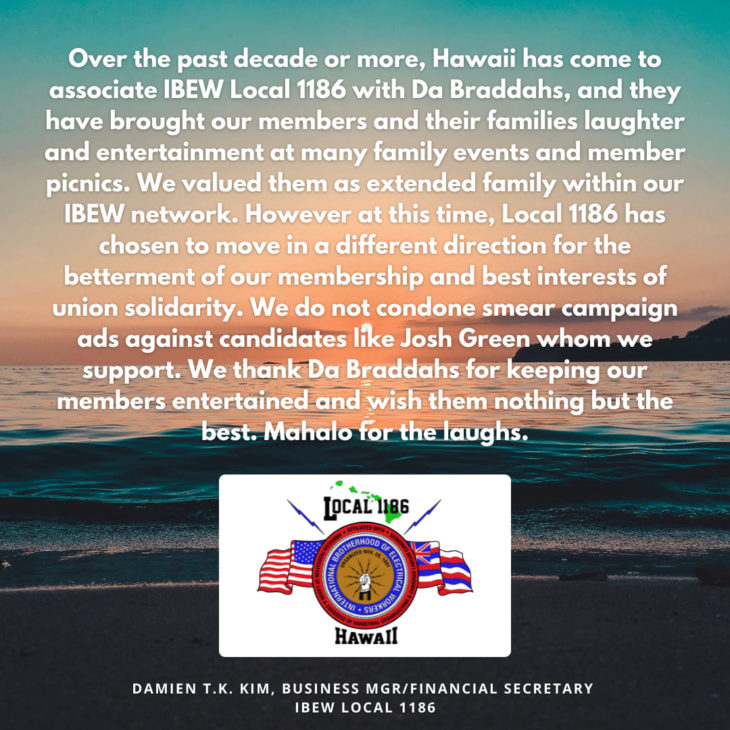 Over the past decade or more, Hawaii has come to associate IBEW Local 1186 with Da Braddahs aka Tony Silva and James Roache, dba All Him Productions, and they have brought our members and their families laughter and entertainment at many family events and member picnics. We valued them as extended family within our IBEW […]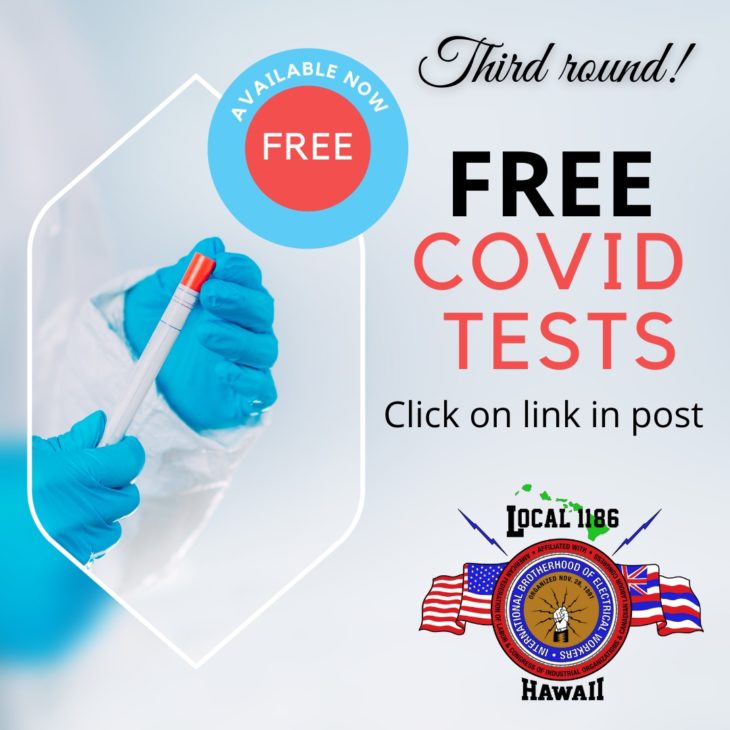 Aloha brothers and sisters, Make sure to order your free COVID-19 tests today. Even if you took advantage of the first two rounds, you can now sign up below for another round of free covid tests to be sent to you. To have free covid tests sent to your mailing address, click here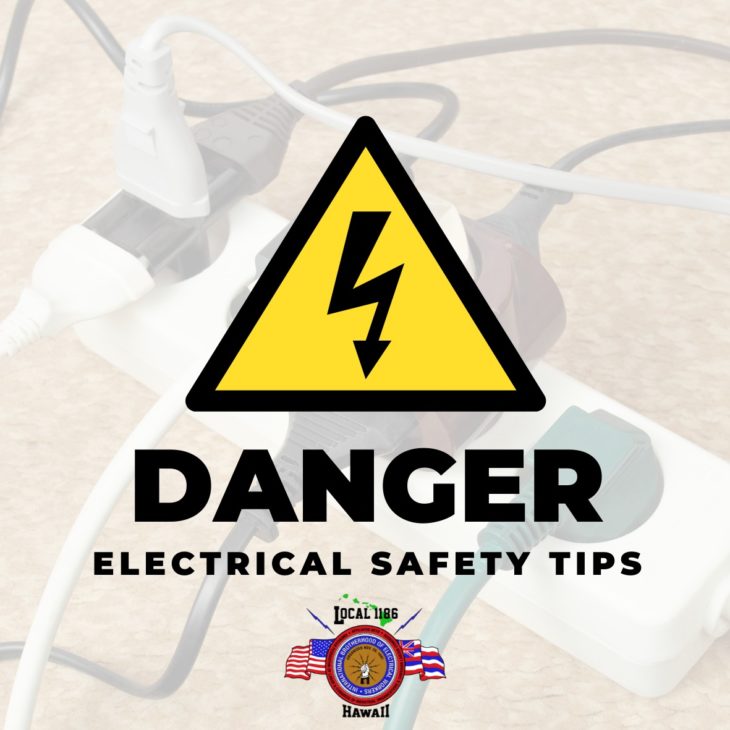 Honolulu-As recently reported on KHON2, Honolulu Fire Department officials have responded to at least a dozen electrical-related fires in 2022 alone. IBEW Local 1186 Business Manager/Financial Secretary Damien Kim says that this is a preventable issue, and issues the following tips: Never overload your power strip. Keep it away from flammable materials. If more outlets […]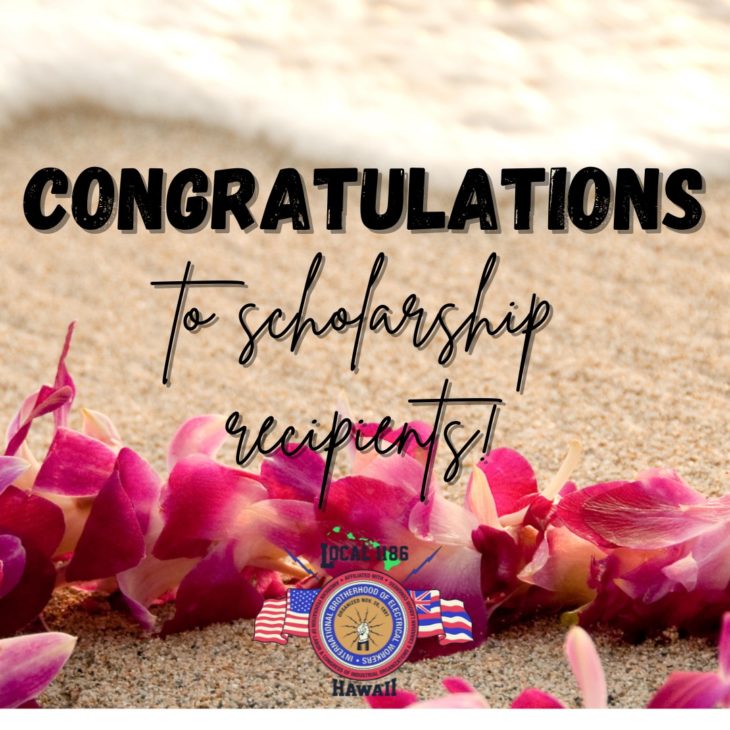 Congrats to the winners of this year's AFL-CIO scholarship. Each winner received $1,000 to be used towards tuition, school books, room, and board, or any other school expenses. The scholarship was open to any graduating senior and having a family member in a union is not a requirement. Best of luck in your future educational […]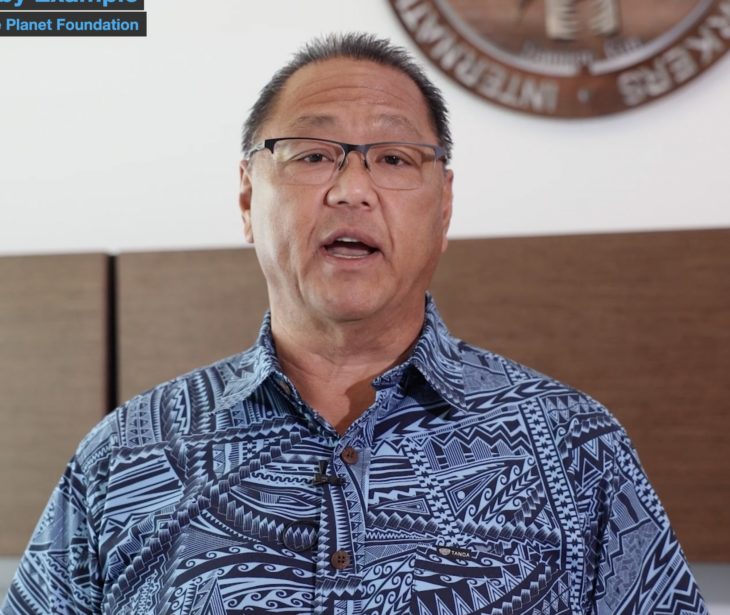 From Blue Planet Foundation: "State buildings are one of the largest electricity users in our islands. It's time for new policy to direct the state to put energy efficiency to work reducing emissions, saving money, and creating jobs. This is especially important now as energy prices are rising across the world. This measure will also […]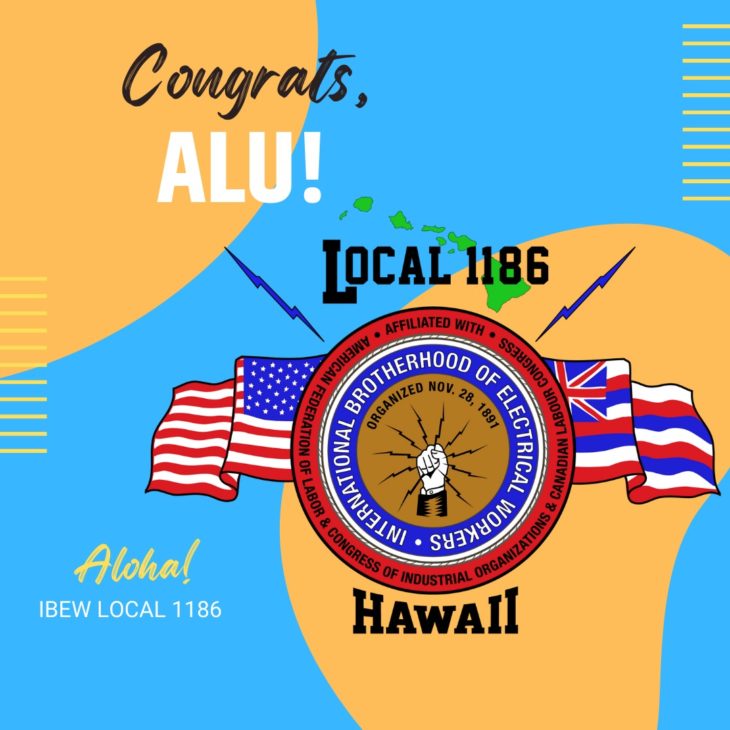 Honolulu-HI April 3, 2022 Amazon unionizes in New York City State Island, New York Amazon organizes first Amazon union in the world. This past weekend, Amazon© unionized its first working union, in Staten Island, New York, called ALU (Amazon Labor Union), organized for the most part by former Amazon employee Chris Smalls. With a majority […]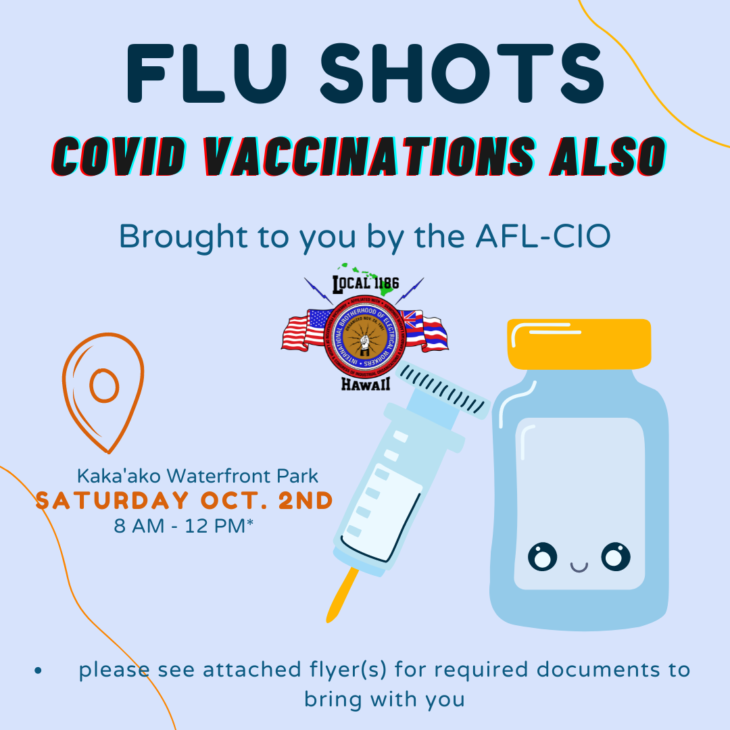 Aloha members, The AFL-CIO and "My Health Solutions" is sponsoring a flu and COVID-19 vaccination drive-thru service on Saturday, October 2, 2021 from 8 AM-12 PM. It will be a on a first-come, first-serve basis and you must wear a mask and bring the following items with you (see below for forms): -Completed flu and/or […]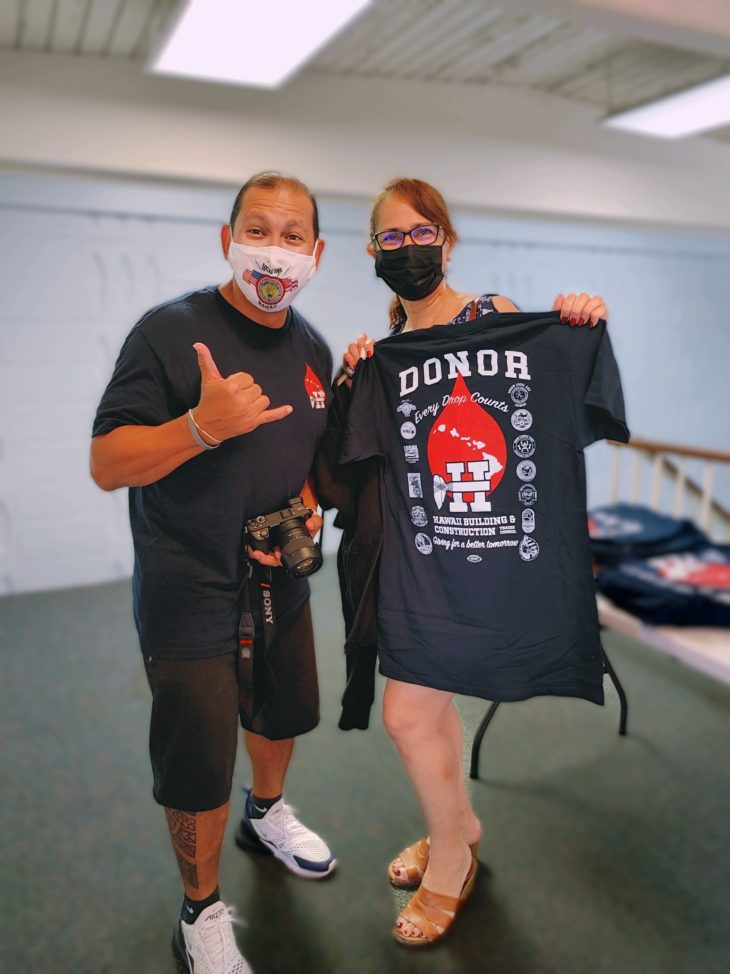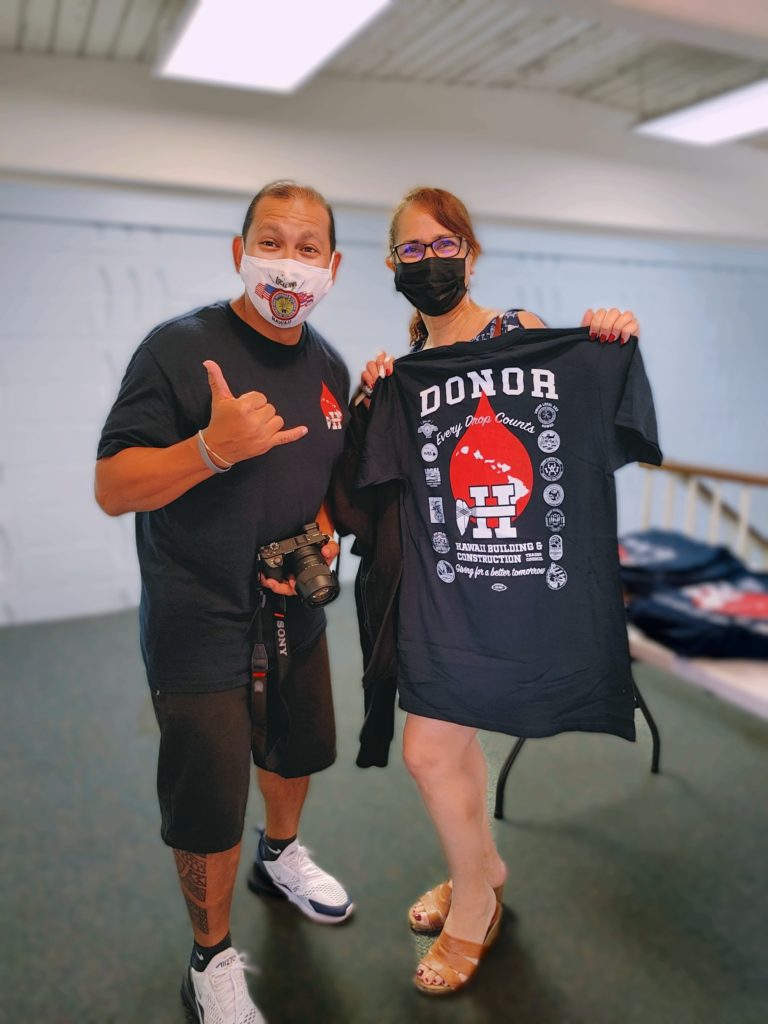 Honolulu-IBEW Local 1186 has been one of the 16 labor unions helping to save lives this summer, as a major participant in the Hawaii Building & Construction Trades Council's (HBCTC) "Every Drop Counts-Giving for a better tomorrow," a collaborative blood drive effort in partnership the Blood Bank of Hawaii (BBH). LG Josh Green came out […]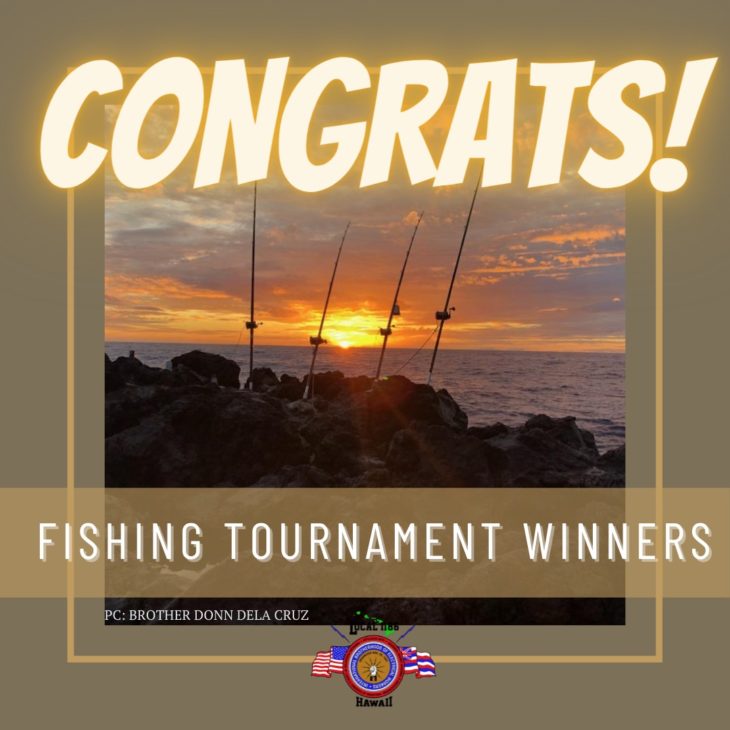 Mahalo to all who entered our first annual statewide shoreline fishing event! Congrats goes to the following winners: BIG ISLAND: 1st: Robert "Lopaka" Wilson (30.8 lb ulua) 2nd: Jeffrey Sibayton (2.2 lb mu) BIG ISLAND 'OHANA: 1st: Kobi Wilson, 8 (9.2 oz papio) 2nd: Yumi Fukunaga, 10 (3.7 oz moana) 3rd: Emi Fukunaga, 4 (3.5 […]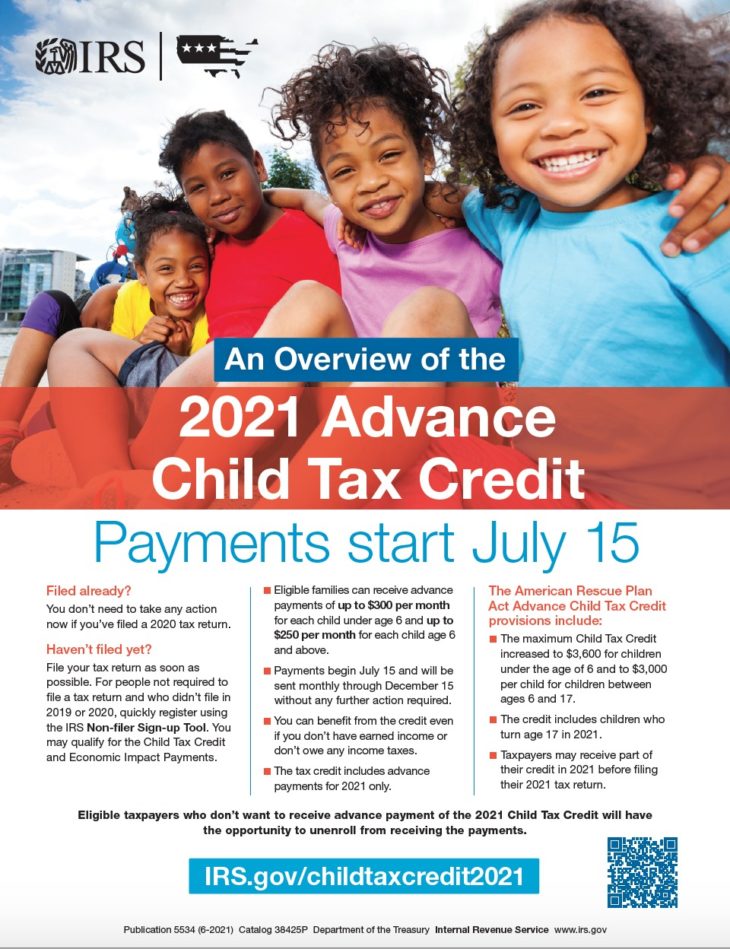 Aloha members, Starting today, you may be eligible to receive monthly payments from the IRS, for your minor children. Please see the attached flyer for more information and to see if you are eligible.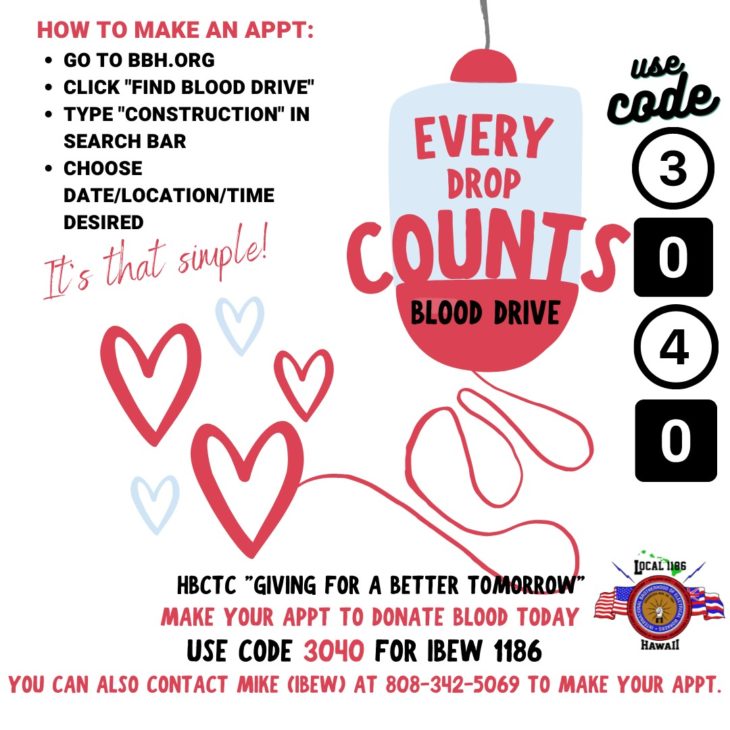 Honolulu – IBEW Local 1186 members came out strong at last month's first "Every Drop Counts" blood drive brought to you by the Hawaii Building & Construction Trades Council, but our work is not done yet. Many appointments are still open for our next blood drive, on Saturday July 17th from 8 AM-4PM at the […]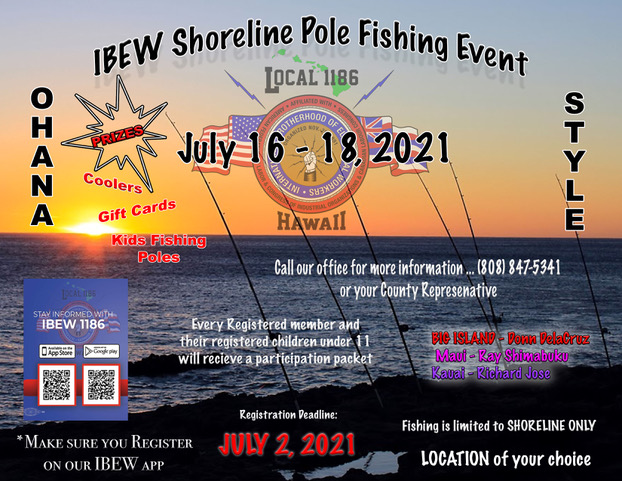 Aloha members, Registration is now open for our first annual IBEW Local 1186 Shoreline Pole Fishing Event. For more information including rules, eligibility and how to register, click here by July 2nd. Good luck!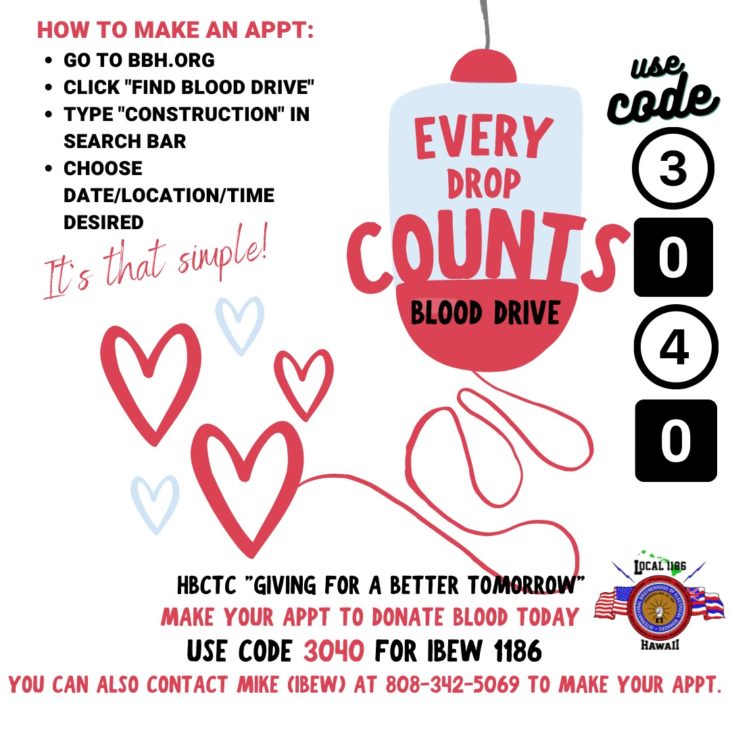 Aloha members, As you know, IBEW Local 1186 is part of a group of unions that together, are the Hawaii Building & Construction Trades Council (HBCTC) and we are participating in our first ever joint blood drive. We are excited to partner with the Blood Bank of Hawaii AND this summer's special secondary partners, Special […]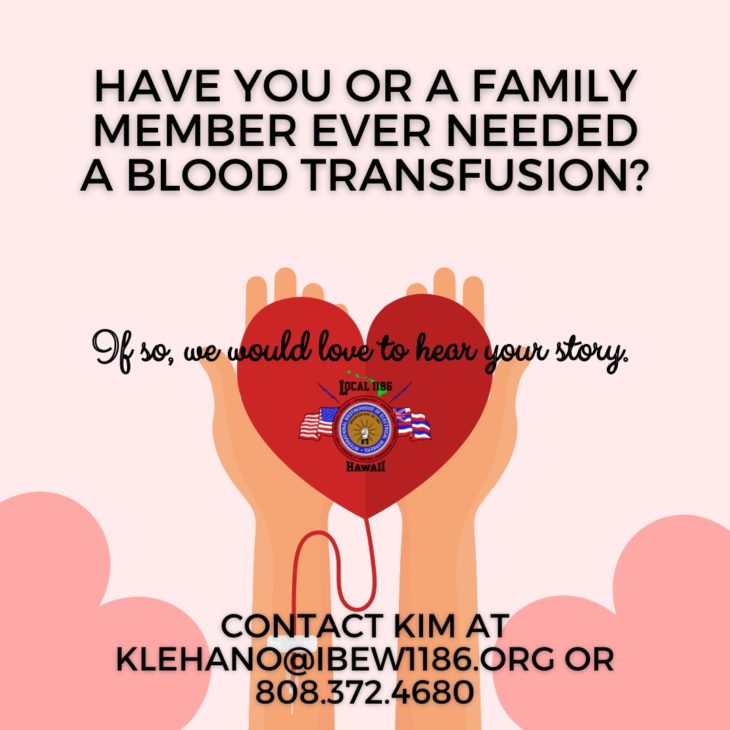 Aloha members, Have you or a family member ever been a recipient of a blood transfusion? If so, we would love to hear your story. Please contact us if you have ever needed blood, or anyone from your family. Mahalo!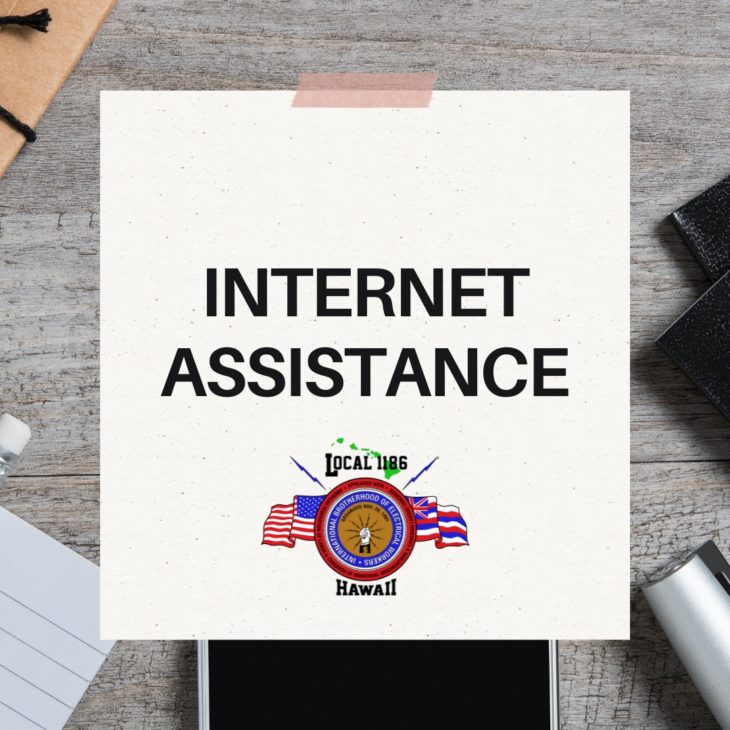 Aloha members, Please click on this link to see if you qualify for a limited time broadband benefit. According to the website, The Emergency Broadband Benefit will provide a discount of up to $50 per month towards broadband service for eligible households and up to $75 per month for households on qualifying Tribal lands. Eligible […]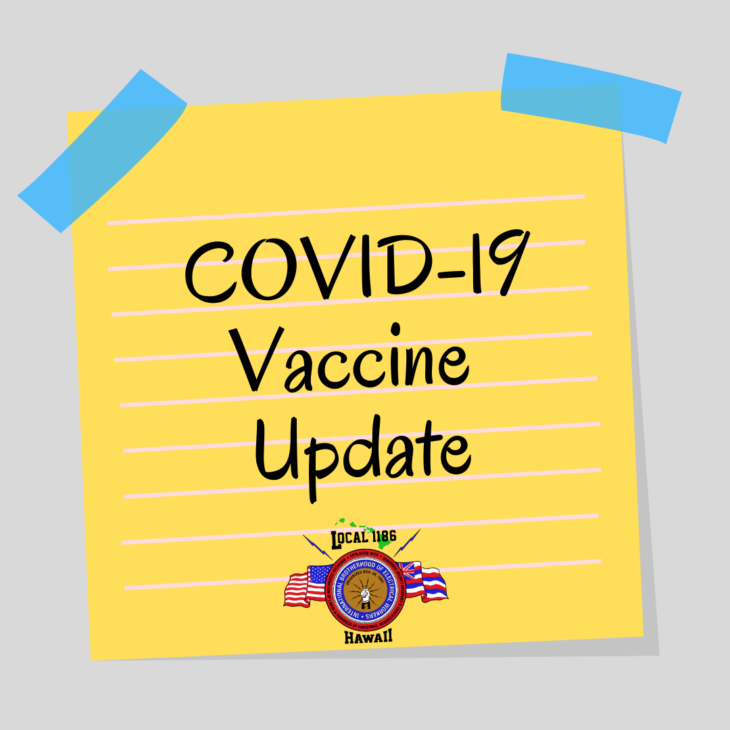 Special Pfizer Vaccination limited availability at Safeway Beretaina 4/19-4/22: To those members who had appointments for their Johnson & Johnson vaccines scheduled on April 17th that have since been paused via the CDC/FDA, the Lt. Governor's Office is assisting us with getting our members and their families vaccinated. The only pharmacy that will be doing […]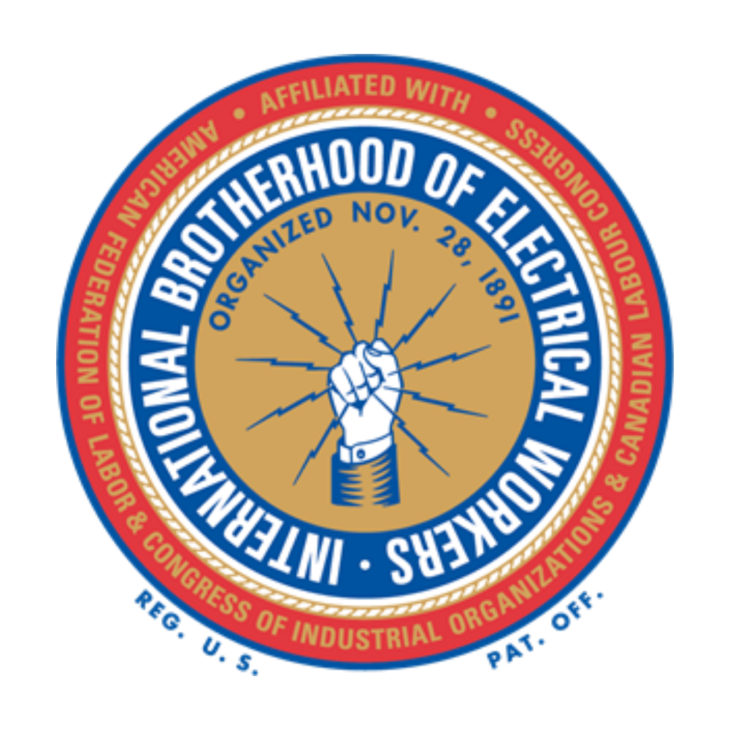 Aloha members, Please see attached letter from 9th District Organizing Coordinator, Brother Greg L. Boyd, regarding the Berg's Going Union (BGU) campaign. Mahalo!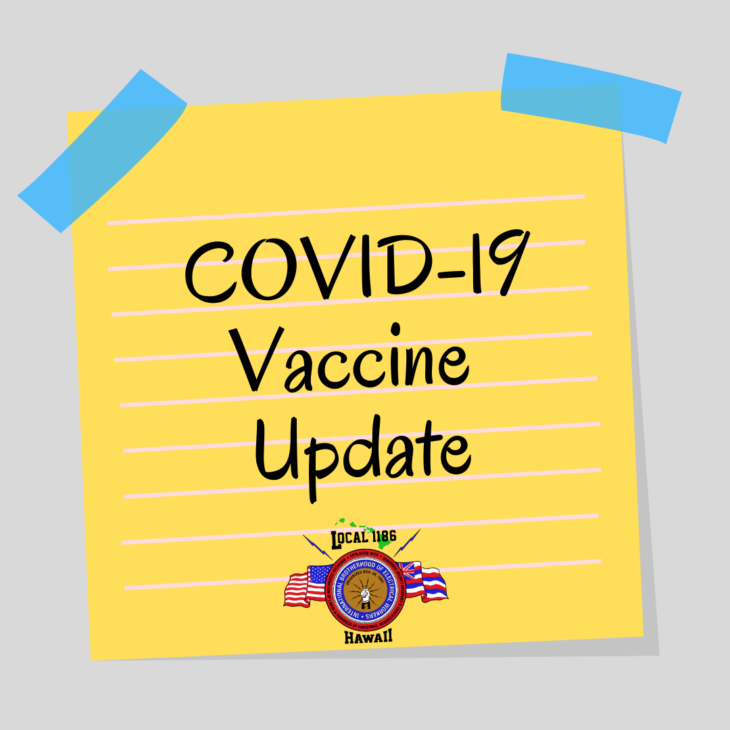 If you have not yet been able to schedule a vaccination appointment at Safeway or at our pod last month, the City & County of Honolulu opened up a pod at Leeward Community College (LCC) and has appointment openings today and next week for essential workers including construction. Please visit this link to register/schedule your […]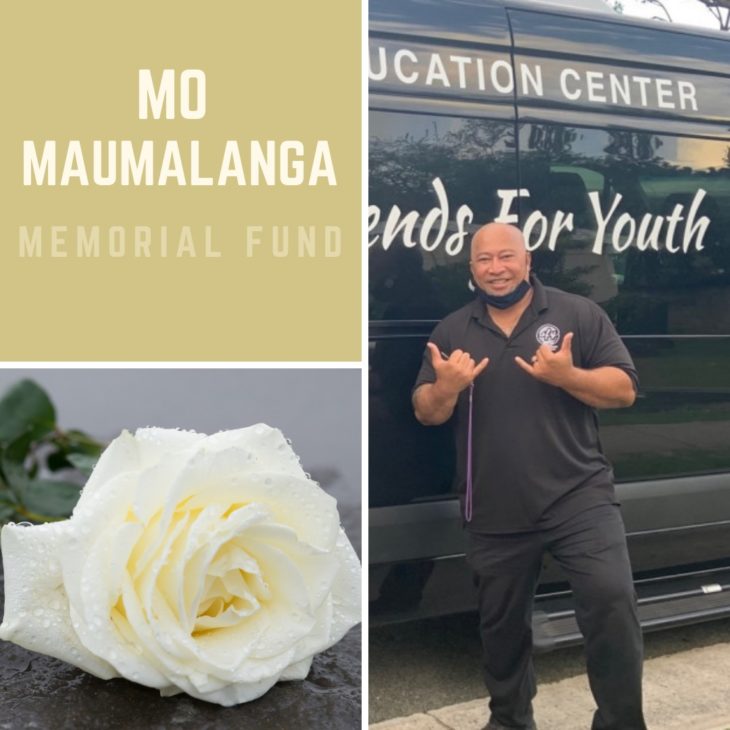 Honolulu, HI- Aloha members, As some of you may have heard, this past weekend, Oahu youth lost a very significant and meaningful leader and professional after the brutal killing of 45-year old husband and father, Malakai "Mo" Maumalanga outside of his Aiea home. "Mo," as he was lovingly called by all who knew him, worked […]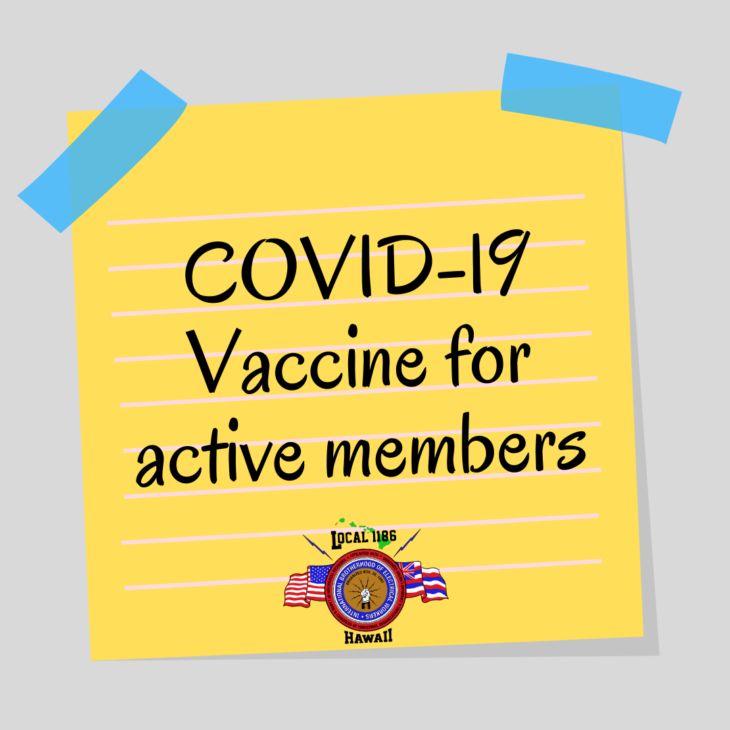 Aloha members & retirees, Retirees should have received a letter in the mail confirming their eligibility to register for a COVID-19 vaccine which we are partnering with the Hawaii State Department of Health in administering on March 19th and April 16th (first dose on March 19th, second dose on April 16th) at Ke'ehi Lagoon. The […]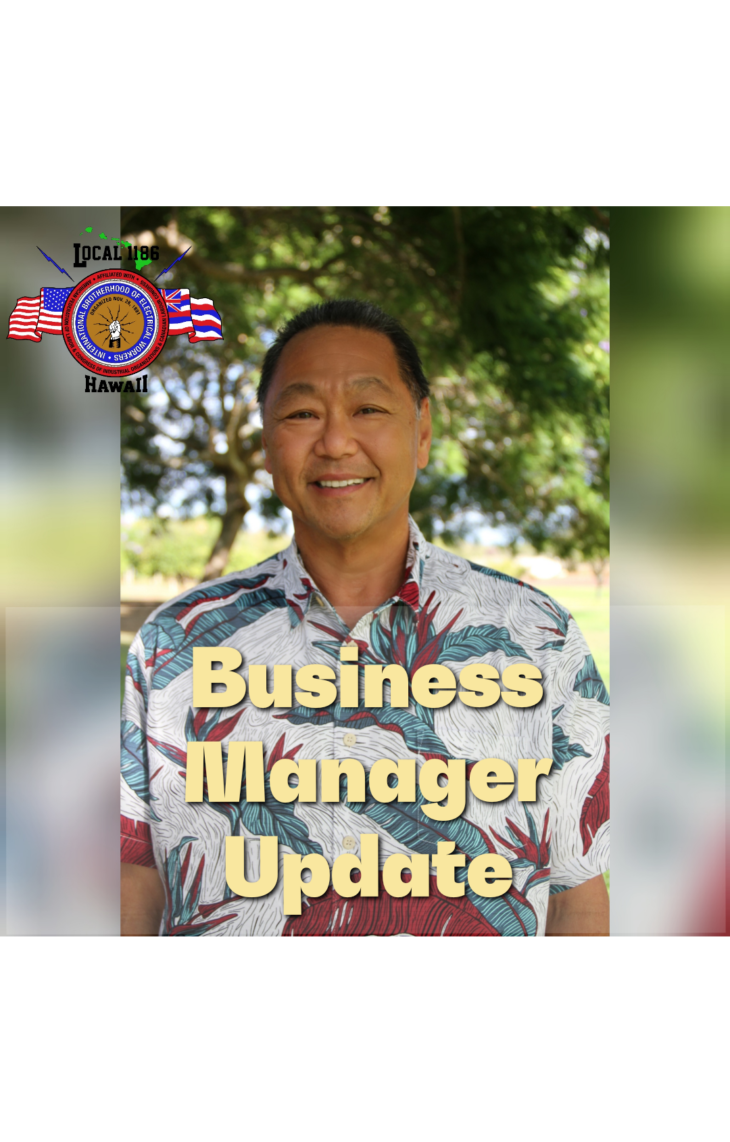 Aloha members, Please find the attached report (two pages total) in lieu of an in-person report for the month of March 2021 from your Business Manager/Financial Secretary Damien Kim. As always, if you have any questions or concerns, we are here to help you. Please contact the union office or your business rep to assist […]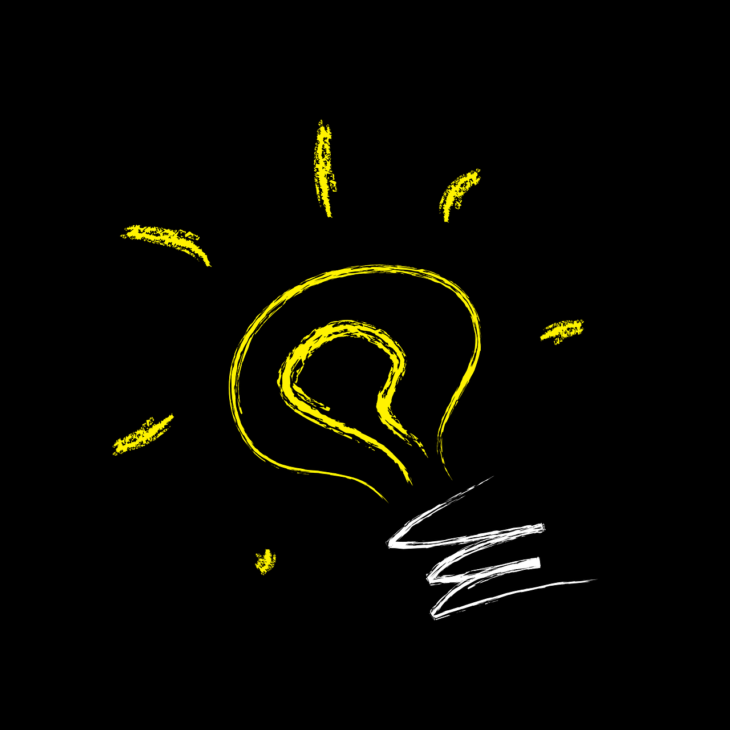 Aloha members, There is a one-time assistance credit of up to $750 for Hawai'i residents affected by the COVID-19 pandemic to get back on their feet. This program will be sponsored by Hawaiian Electric. The program will be administered through Aloha United Way (AUW) on Oahu, partnering with Hawaii's local UW chapters. Applications will begin […]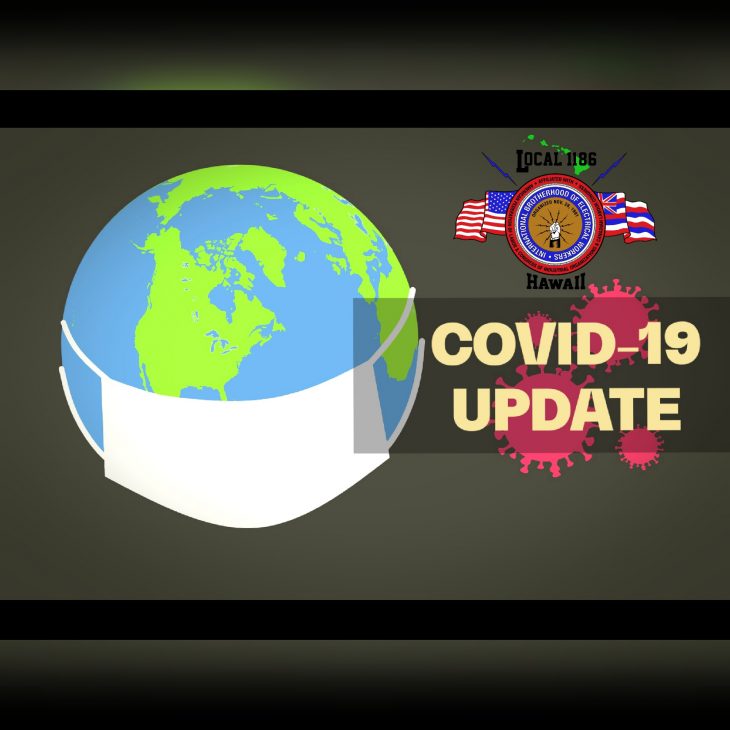 FREE/ANONYMOUS SERVICES AVAILABLE! Aloha Members, COVID-19 has affected all of us in different ways, putting a strain on much of our mental health on top of everything else. There is an organization that focuses on the way it has affected us, but specializes in the recovery and building resilience throughout this pandemic. Member Jared Ishiki's […]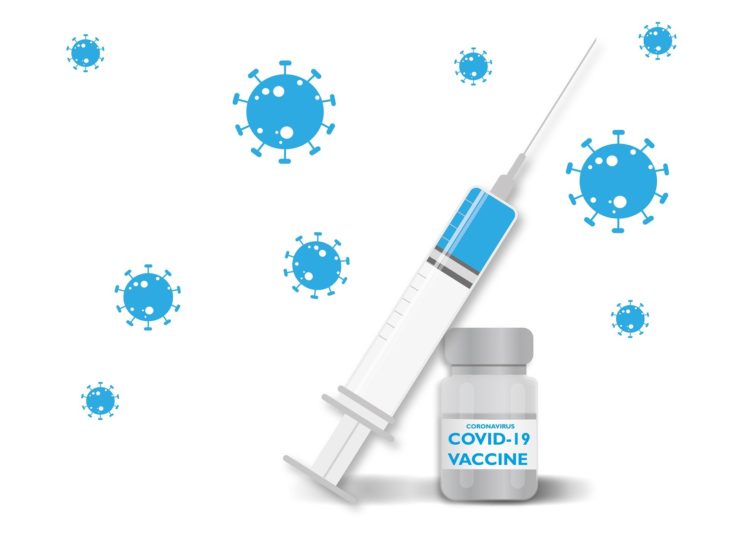 Aloha members, Business Manager/Financial Secretary Damien Kim is currently working with the Lieutenant Governor Josh Green and the Department of Health to put us on the list under 1C to move up our vaccination eligibility. In the meantime, please read below which is info from the AFL-CIO re: COVID Vaccinations as of today, January 15, […]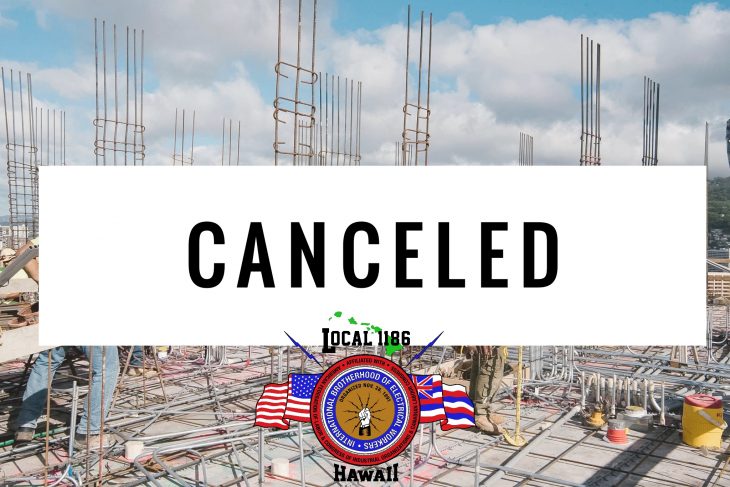 Aloha members, We hope you had a relaxing and enjoyable holiday season! This is just a notice to inform you of the January meeting cancellations as approved by our International Office. Please continue to stay safe, both at work and at home, and remain healthy. Mahalo!