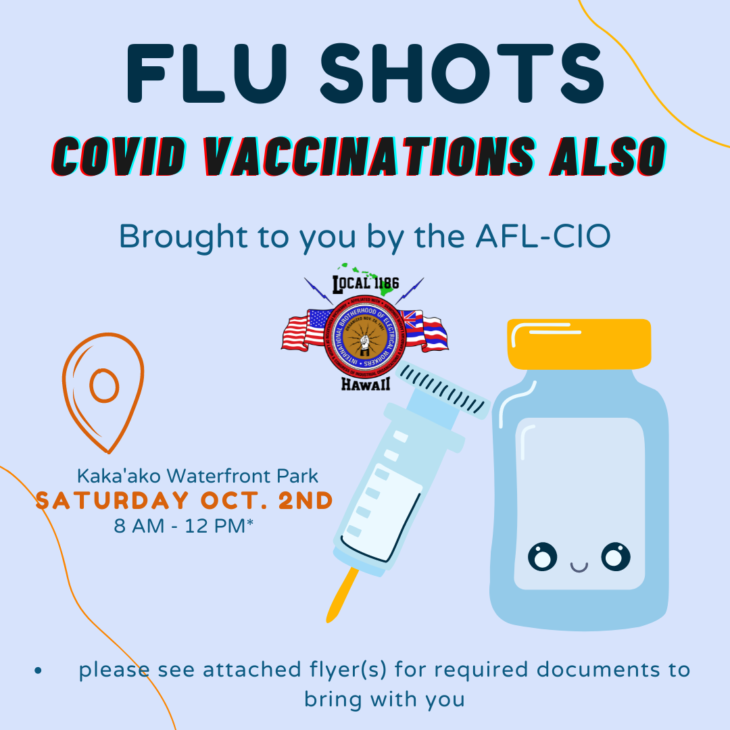 Aloha members, The AFL-CIO and "My Health Solutions" is sponsoring a flu and COVID-19 vaccination drive-thru service on Saturday, October 2, 2021 from 8 AM-12 PM. It will be a on a first-come, first-serve basis and you must wear a mask and bring the following items with you (see below for forms): -Completed flu and/or […]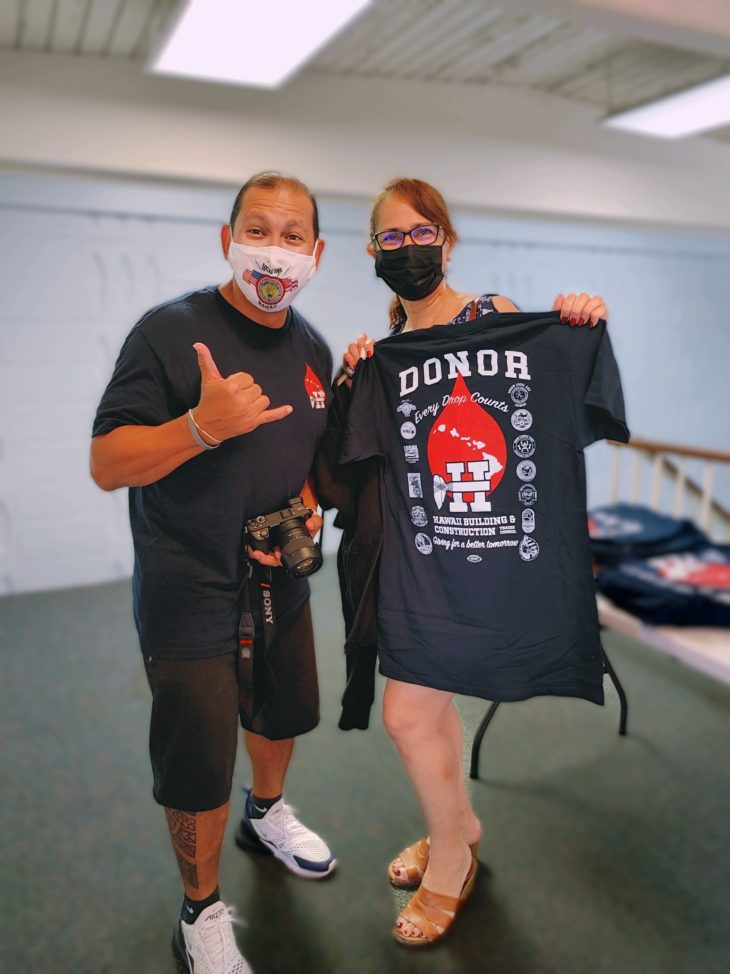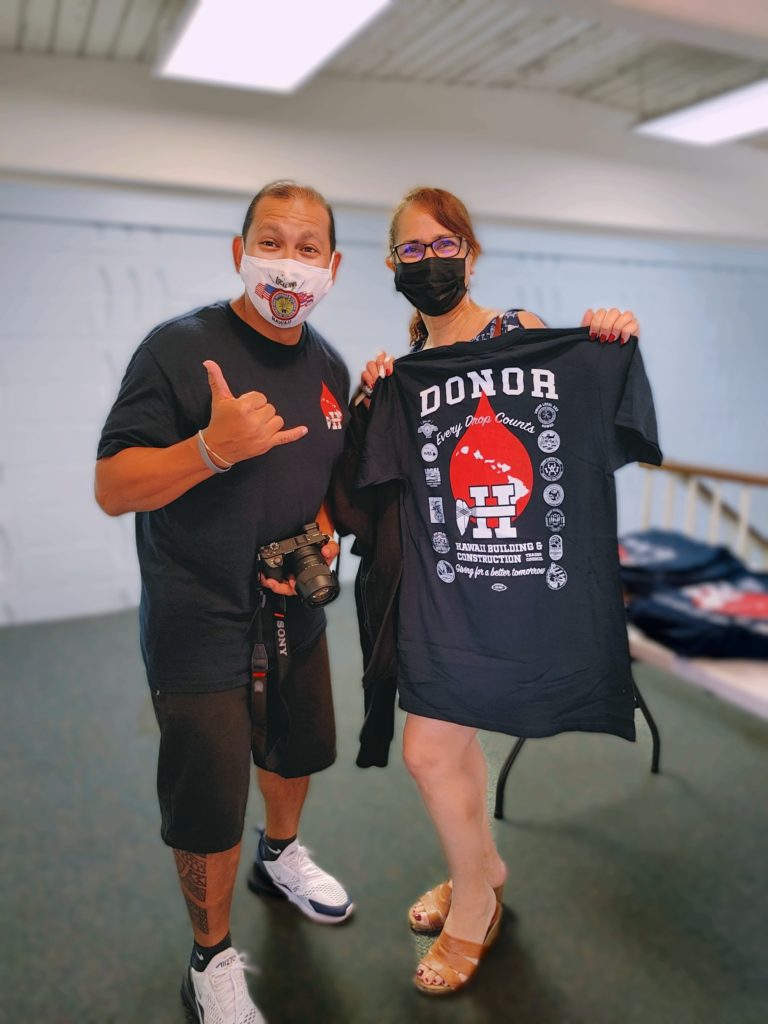 Honolulu-IBEW Local 1186 has been one of the 16 labor unions helping to save lives this summer, as a major participant in the Hawaii Building & Construction Trades Council's (HBCTC) "Every Drop Counts-Giving for a better tomorrow," a collaborative blood drive effort in partnership the Blood Bank of Hawaii (BBH). LG Josh Green came out […]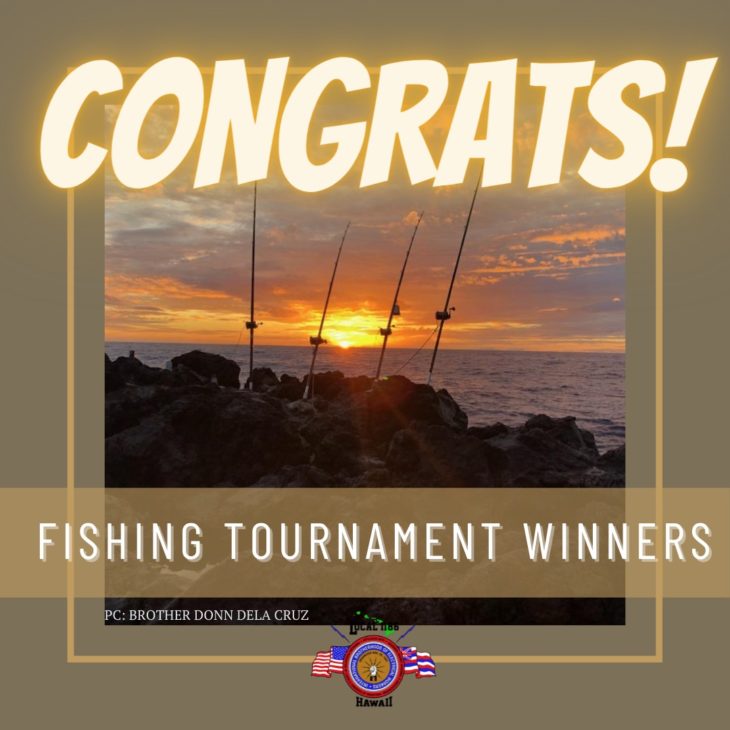 Mahalo to all who entered our first annual statewide shoreline fishing event! Congrats goes to the following winners: BIG ISLAND: 1st: Robert "Lopaka" Wilson (30.8 lb ulua) 2nd: Jeffrey Sibayton (2.2 lb mu) BIG ISLAND 'OHANA: 1st: Kobi Wilson, 8 (9.2 oz papio) 2nd: Yumi Fukunaga, 10 (3.7 oz moana) 3rd: Emi Fukunaga, 4 (3.5 […]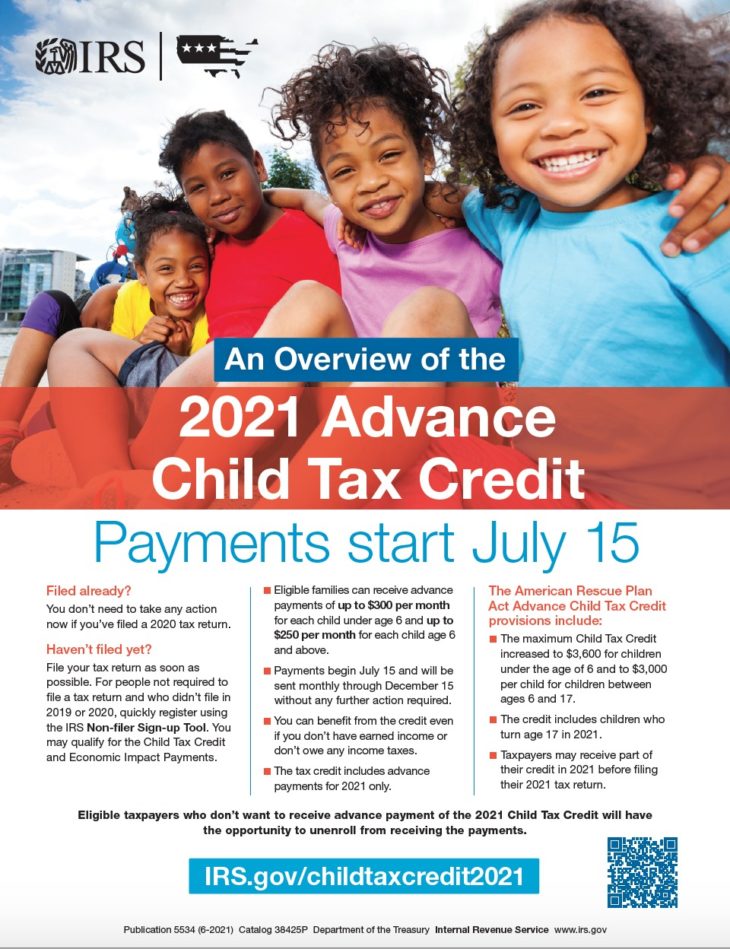 Aloha members, Starting today, you may be eligible to receive monthly payments from the IRS, for your minor children. Please see the attached flyer for more information and to see if you are eligible.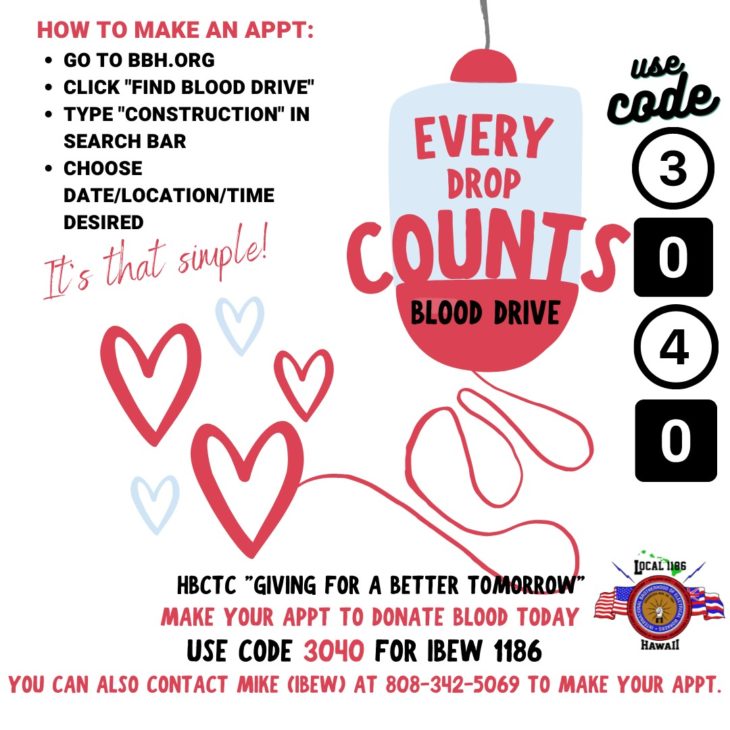 Honolulu – IBEW Local 1186 members came out strong at last month's first "Every Drop Counts" blood drive brought to you by the Hawaii Building & Construction Trades Council, but our work is not done yet. Many appointments are still open for our next blood drive, on Saturday July 17th from 8 AM-4PM at the […]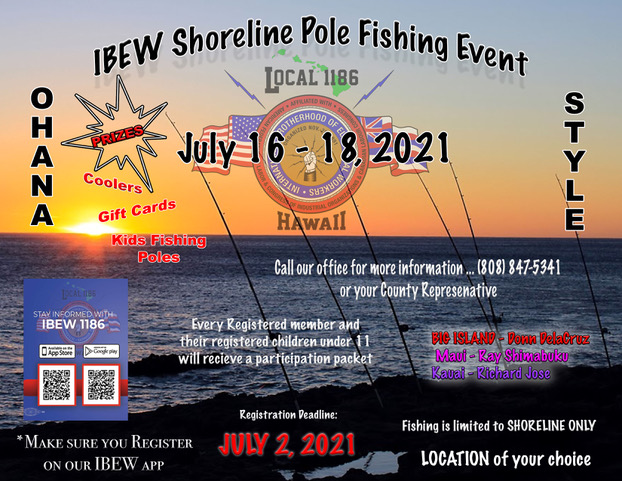 Aloha members, Registration is now open for our first annual IBEW Local 1186 Shoreline Pole Fishing Event. For more information including rules, eligibility and how to register, click here by July 2nd. Good luck!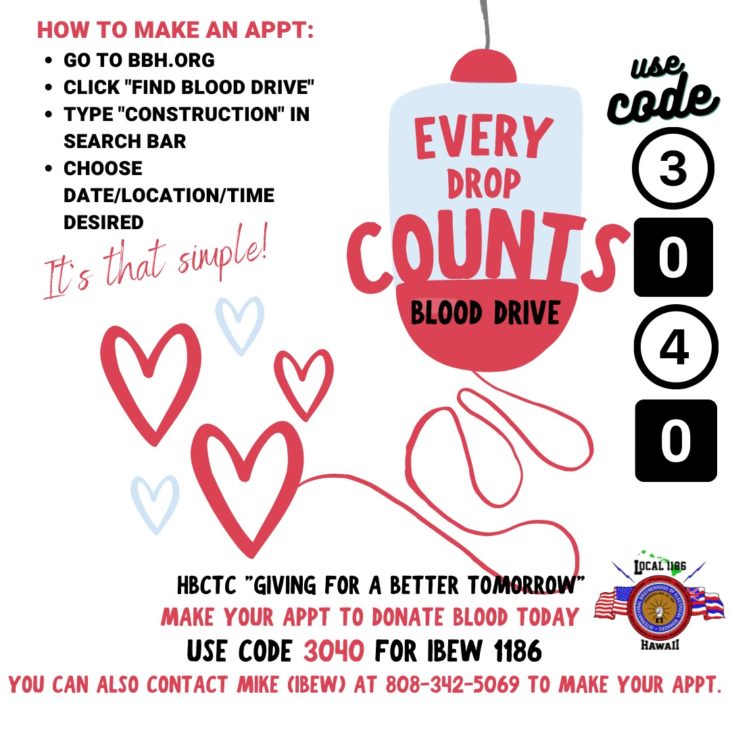 Aloha members, As you know, IBEW Local 1186 is part of a group of unions that together, are the Hawaii Building & Construction Trades Council (HBCTC) and we are participating in our first ever joint blood drive. We are excited to partner with the Blood Bank of Hawaii AND this summer's special secondary partners, Special […]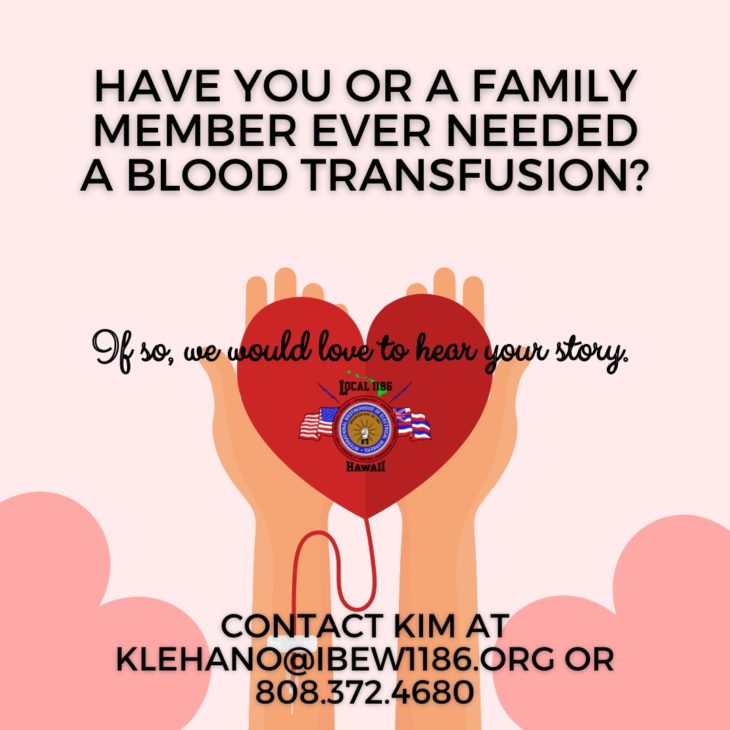 Aloha members, Have you or a family member ever been a recipient of a blood transfusion? If so, we would love to hear your story. Please contact us if you have ever needed blood, or anyone from your family. Mahalo!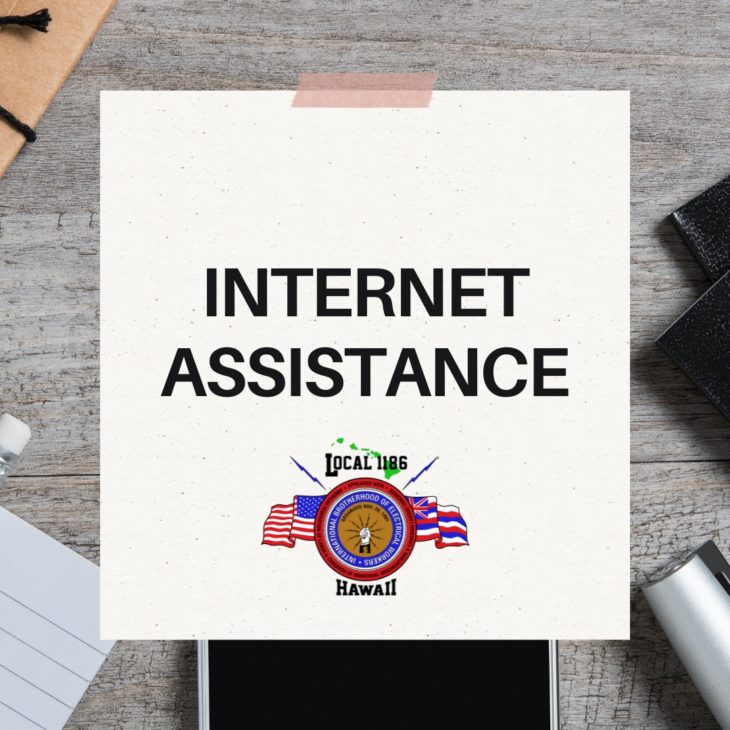 Aloha members, Please click on this link to see if you qualify for a limited time broadband benefit. According to the website, The Emergency Broadband Benefit will provide a discount of up to $50 per month towards broadband service for eligible households and up to $75 per month for households on qualifying Tribal lands. Eligible […]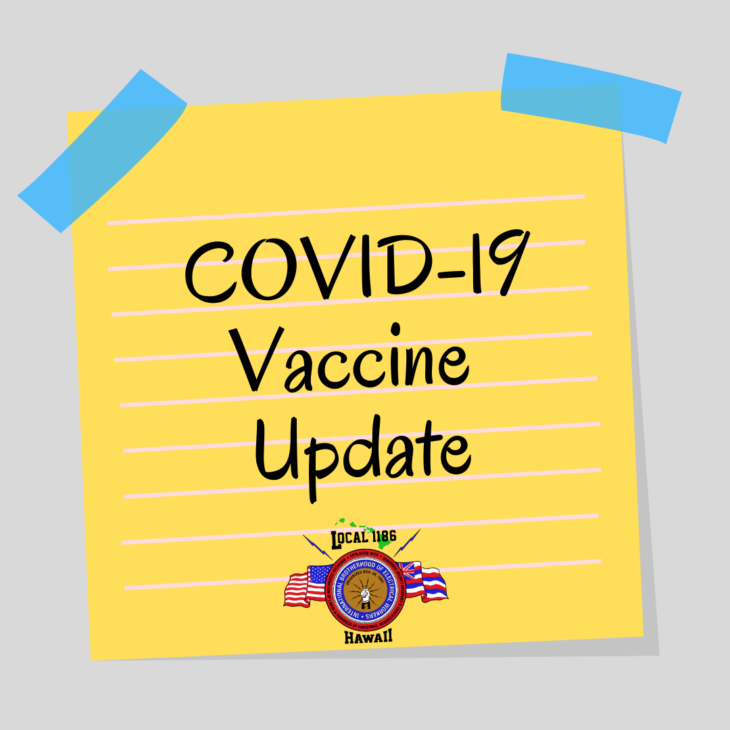 Special Pfizer Vaccination limited availability at Safeway Beretaina 4/19-4/22: To those members who had appointments for their Johnson & Johnson vaccines scheduled on April 17th that have since been paused via the CDC/FDA, the Lt. Governor's Office is assisting us with getting our members and their families vaccinated. The only pharmacy that will be doing […]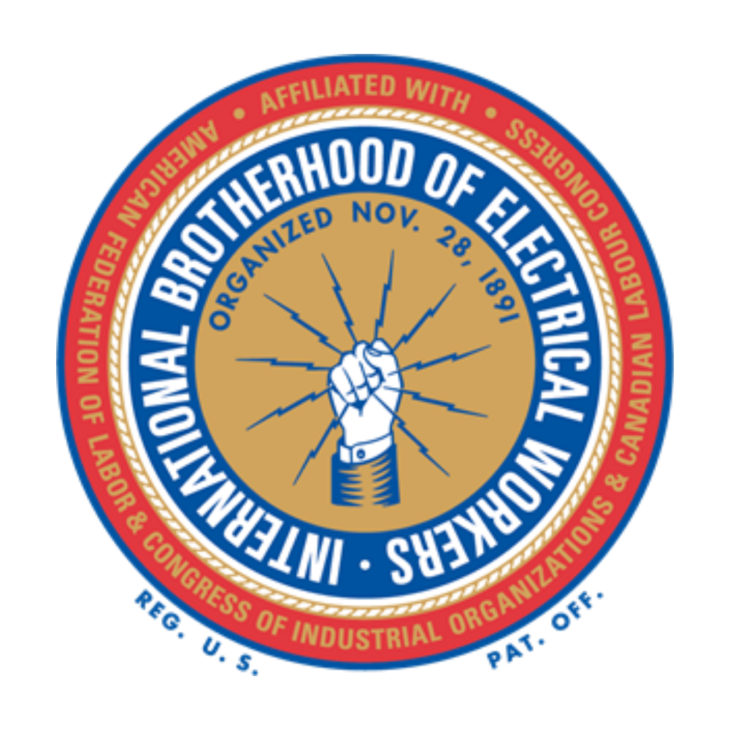 Aloha members, Please see attached letter from 9th District Organizing Coordinator, Brother Greg L. Boyd, regarding the Berg's Going Union (BGU) campaign. Mahalo!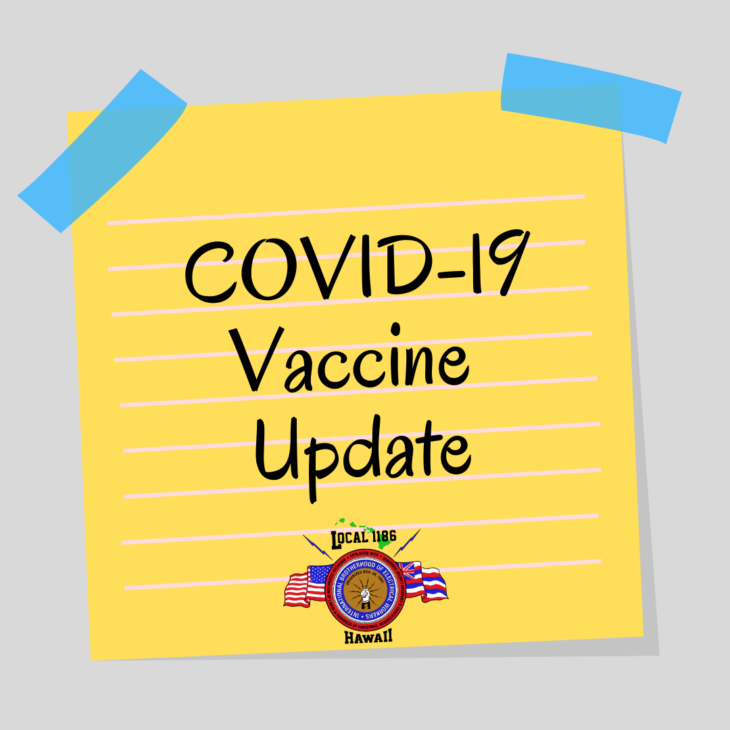 If you have not yet been able to schedule a vaccination appointment at Safeway or at our pod last month, the City & County of Honolulu opened up a pod at Leeward Community College (LCC) and has appointment openings today and next week for essential workers including construction. Please visit this link to register/schedule your […]