Aloha members,
As you know, IBEW Local 1186 is part of a group of unions that together, are the Hawaii Building & Construction Trades Council (HBCTC) and we are participating in our first ever joint blood drive. We are excited to partner with the Blood Bank of Hawaii AND this summer's special secondary partners, Special Olympics Hawaii, who will indirectly benefit from each and every blood donation from ours and other blood drives this summer.
1 in 6 will need blood at one point in their lives, which means, if you have not needed it already, someone you know will, at some point in your life. If you donate blood, you can save up three lives, and during the summer, blood donations are historically low. Please help IBEW Local 1186 be the top Building Trade affiliated donor to this lifesaving initiative, by being a part of our statewide blood drive.
All information is within the graphics/flyers below, but for quick reference, there will be three blood drives on Oahu:
Saturday, June 12, 2021: 8 AM-4 PM at Damien High School (1401 Houghtailing St.)
Saturday, July 17, 2021: 8 AM-4 PM at the LDS Waipahu Church Building (94-210 Kahualii St.)
Saturday, August 21, 2021: 8 AM-4PM at the One Love Ministries Windward (1276 Kailua Rd.)
Neighbor islands will be having their drives on the following dates/times/locations:
BIG ISLAND:
KONA (LDS Kona Hawaii Stake-Cultural Hall: 75-230 Kalani St.):
Tuesday, June 22, 2021: 8 AM-6PM, Wednesday June 23, 2021: 9 AM-7 PM & Thursday, June 24,2021: 6 AM-3 PM
HILO (LDS Hilo Hawaii Stake-Cultural Hall: 1373 Kilauea Ave.):
Tuesday, September 21: 7 AM-5 PM, Wednesday, September 22: 9 AM-7 PM & Thursday, September 23: 6 AM-3 PM
MAUI:
Cameron Center Auditorium (95 Mahalani St.):
Tuesday, July 20, 2021: 8 AM-6 PM, Wednesday July 21, 2021: 9 AM-7 PM & Thursday, July 22, 2021: 6 AM-3 PM
KAUAI:
Kauai Beach Resort (4331 Kauai Beach Dr.):
Tuesday, August 24, 2021: 8 AM-6PM, Wednesday August 25, 2021: 9 AM-7PM & Thursday, August 26: 6 AM-3 PM
###
There are a few different ways to make your appointment. You can log directly onto Blood Bank of Hawaii here, click on "Find Blood Drive" and then type "construction" into the search bar at the top right of the page. There you will see our Oahu blood drives. If you don't have the time or internet access to do so, you can also call Mike Pacheco at 808-342-5069 and he will make your appointment for you.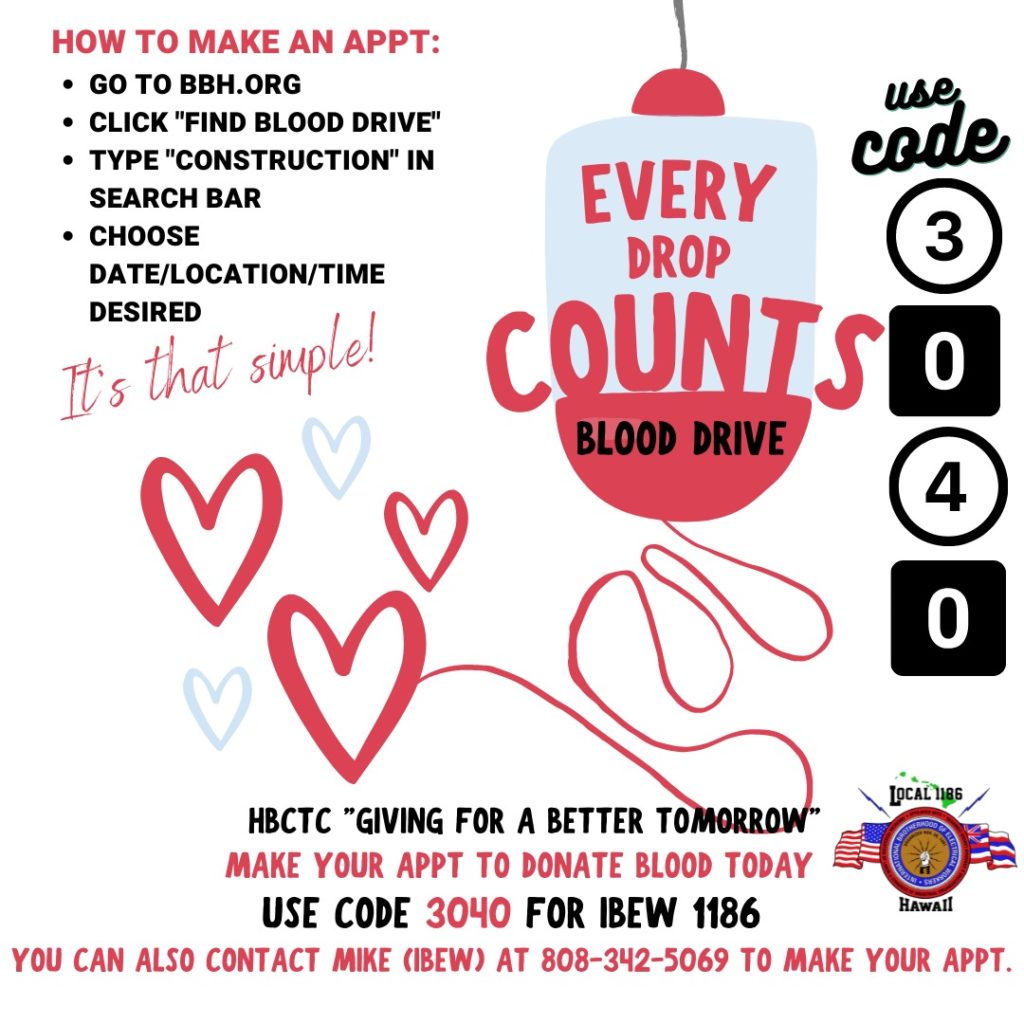 We have attached our informational forms below for your convenience. Please help us to fill the need for blood this summer and donate blood! This is not just for members – if you cannot make it, or do not donate blood, please send someone in your place – a friend, family member, or neighbor. The more donations we receive, the more lives we can save.
Mahalo and take care!