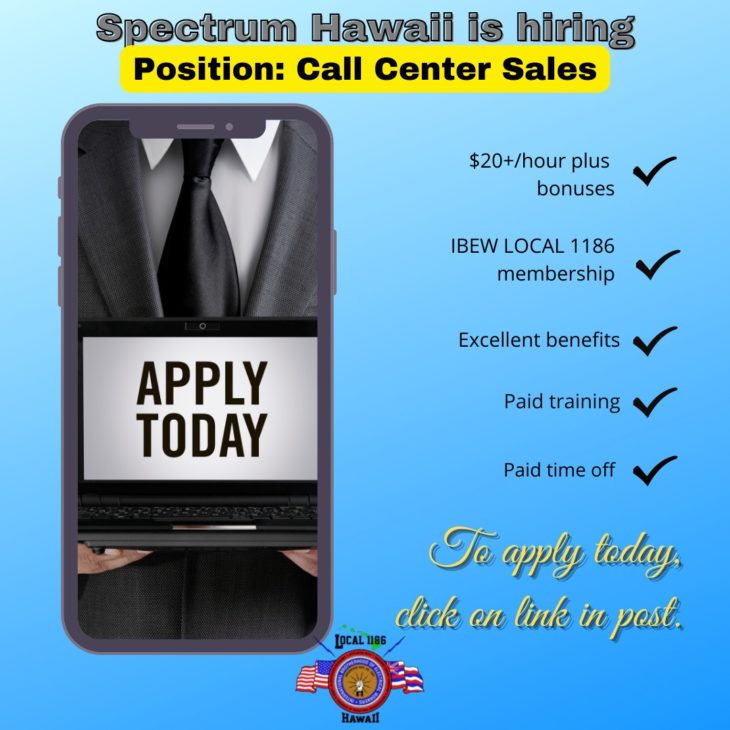 Aloha brothers and sisters, We just wanted to pass along a great opportunity for yourself or for friends and family who are looking for a career opportunity or change. Spectrum, one of our largest signatory contractors, is currently hiring for Call Center Sales. To apply and for more info, click directly on this link.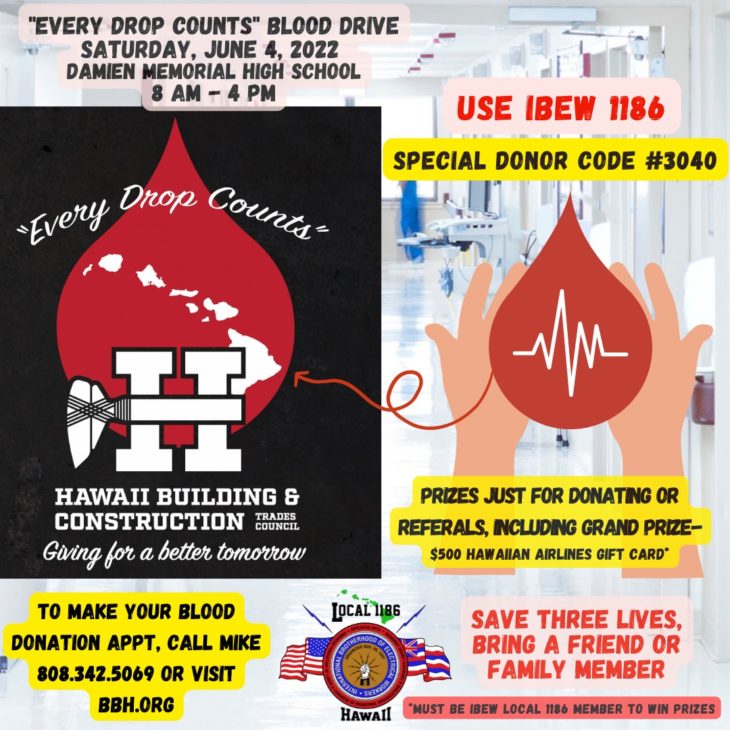 Honolulu – The Hawaii Building and Construction Trades Council (HBCTC), partnering with the Blood Bank of Hawaii (BBH) is hosting their second annual "Every Drop Counts" Blood Drive on Saturday, June 4th, 2022 from 8 AM-4 PM at Damien Memorial High School. Walk-ins are not allowed, so please be sure to schedule your appointment today, […]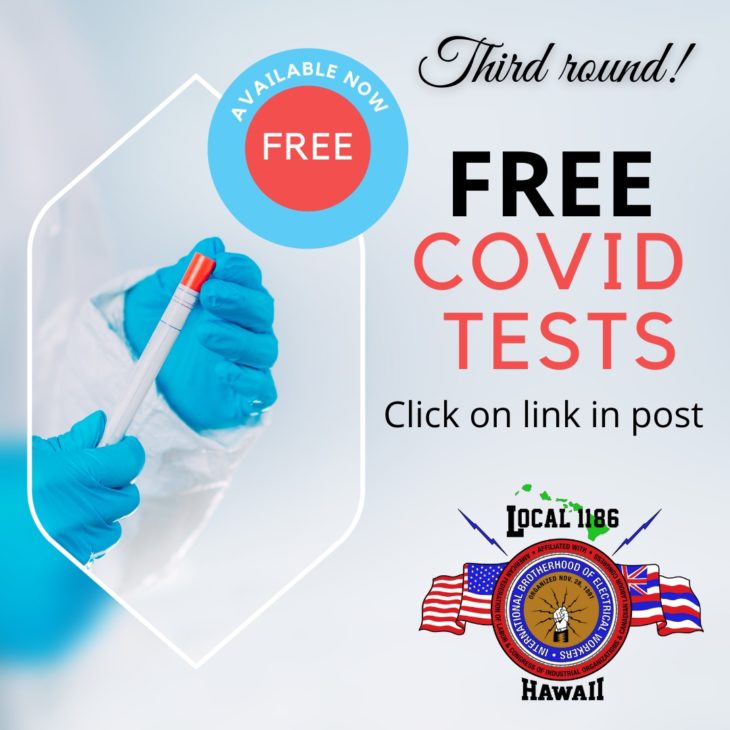 Aloha brothers and sisters, Make sure to order your free COVID-19 tests today. Even if you took advantage of the first two rounds, you can now sign up below for another round of free covid tests to be sent to you. To have free covid tests sent to your mailing address, click here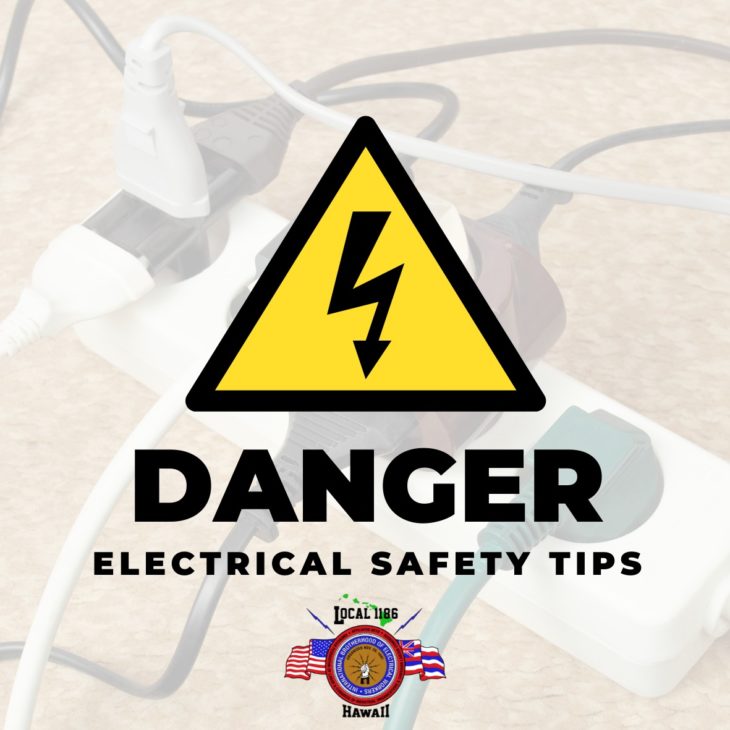 Honolulu-As recently reported on KHON2, Honolulu Fire Department officials have responded to at least a dozen electrical-related fires in 2022 alone. IBEW Local 1186 Business Manager/Financial Secretary Damien Kim says that this is a preventable issue, and issues the following tips: Never overload your power strip. Keep it away from flammable materials. If more outlets […]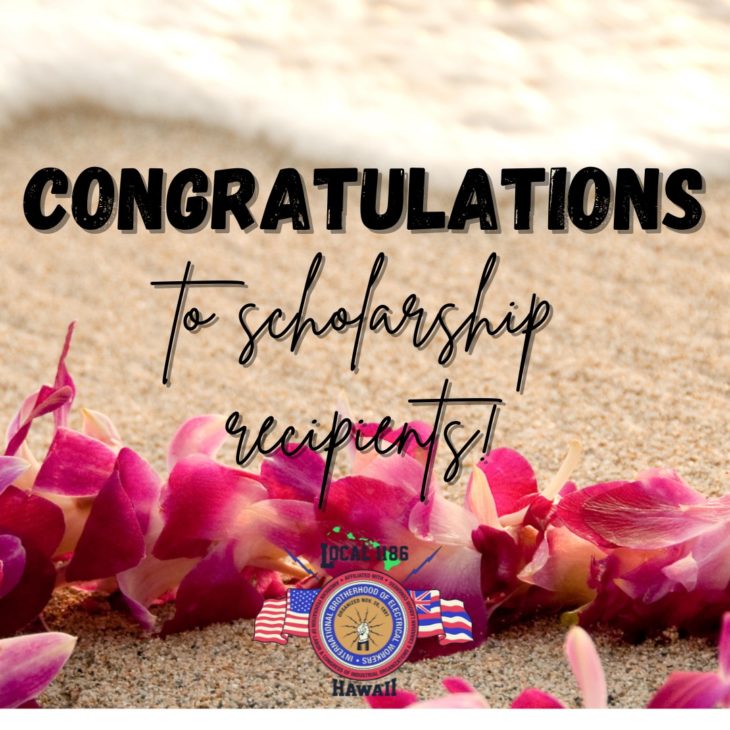 Congrats to the winners of this year's AFL-CIO scholarship. Each winner received $1,000 to be used towards tuition, school books, room, and board, or any other school expenses. The scholarship was open to any graduating senior and having a family member in a union is not a requirement. Best of luck in your future educational […]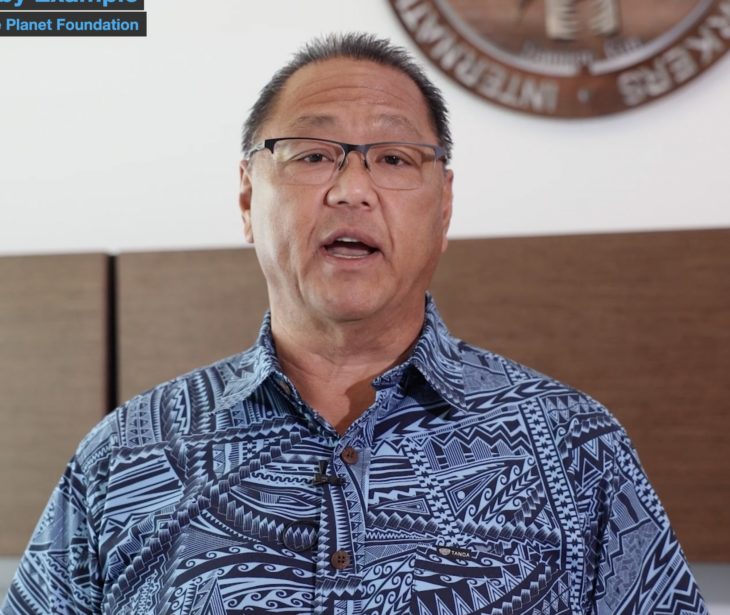 From Blue Planet Foundation: "State buildings are one of the largest electricity users in our islands. It's time for new policy to direct the state to put energy efficiency to work reducing emissions, saving money, and creating jobs. This is especially important now as energy prices are rising across the world. This measure will also […]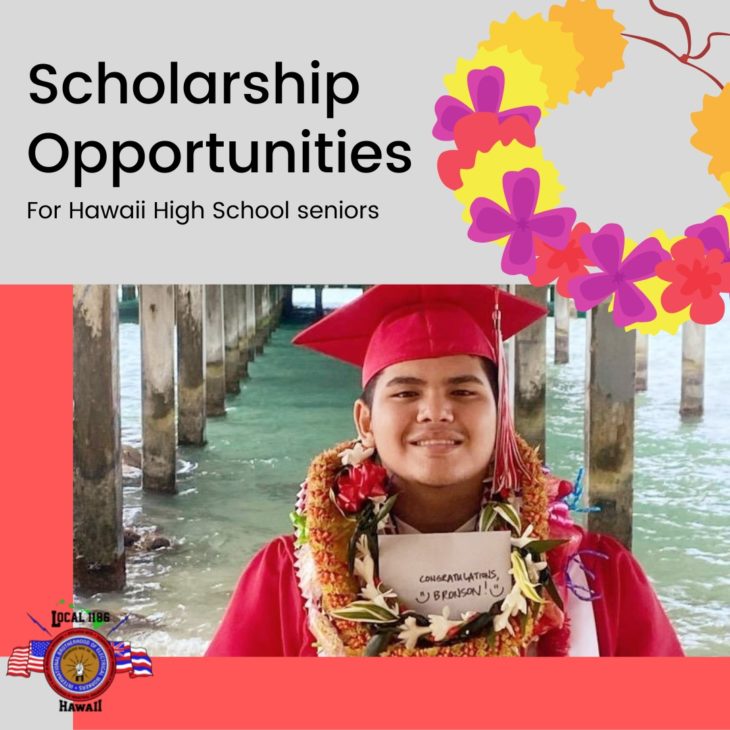 Aloha brothers and sisters, This is for the Senior class of 2022 and this post will be updated with any scholarship opportunities as they become available. Good luck!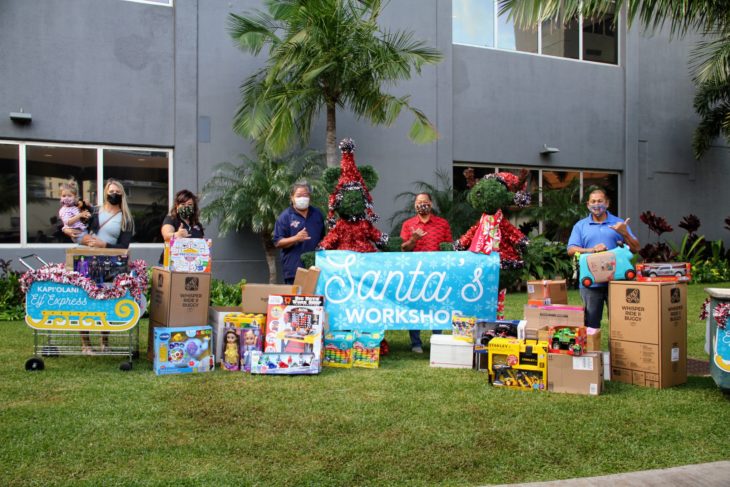 Honolulu – Staff of IBEW Local 1186, the Hawaii Electricians Training Fund, Hawaii Electricians Administrative Office, and HEMEP's Compliance Office helped to make Christmas brighter for a few families that would have to remain in the hospital over the holidays. Each year, employees choose a charitable cause and this year, chose "Santa's Workshop" as part […]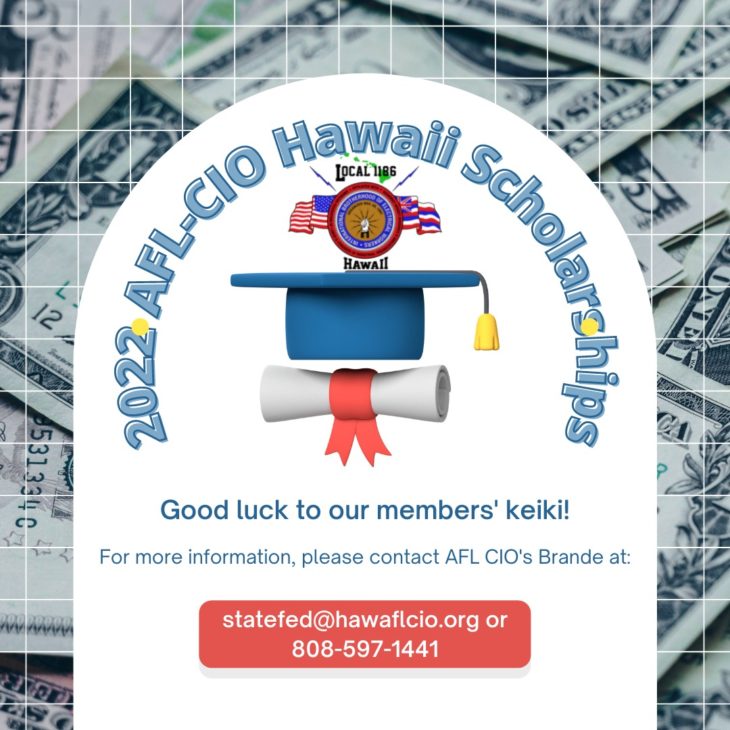 Aloha members, Please see the attached for more information regarding the AFL-CIO scholarships which will be awarded to three high school seniors. Please direct all questions to AFL-CIO's Brande Kahalewai via email or phone at 808-597-1441. Mark down the deadline in your calendar, and good luck!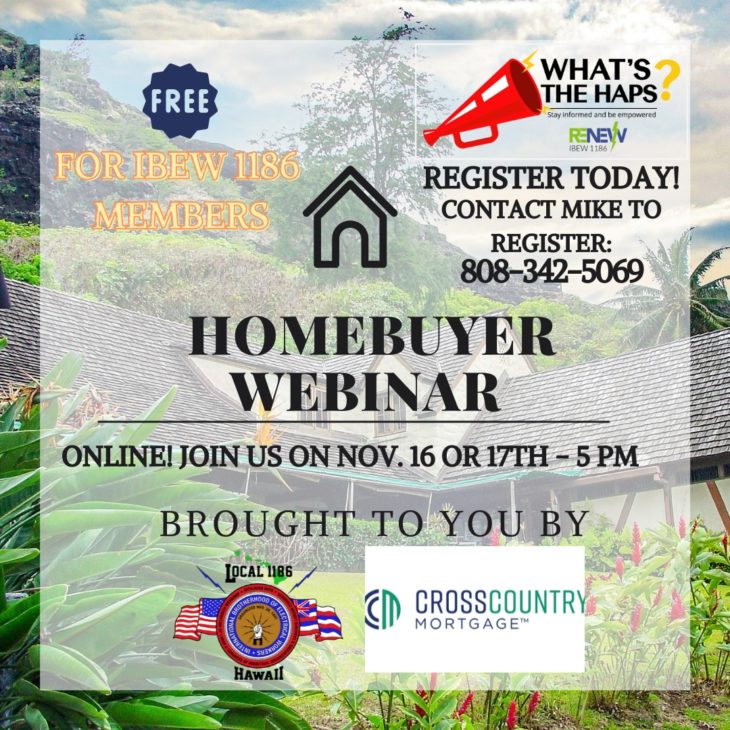 Aloha members, Have you registered for our "What's the haps" November Homebuyer Webinar? If not make sure to contact Mike (see phone # on graphic) to do so! Get your questions answered and find out some very valuable information. Hope to "see" you there! Also, if these times/dates don't work for you, please be sure […]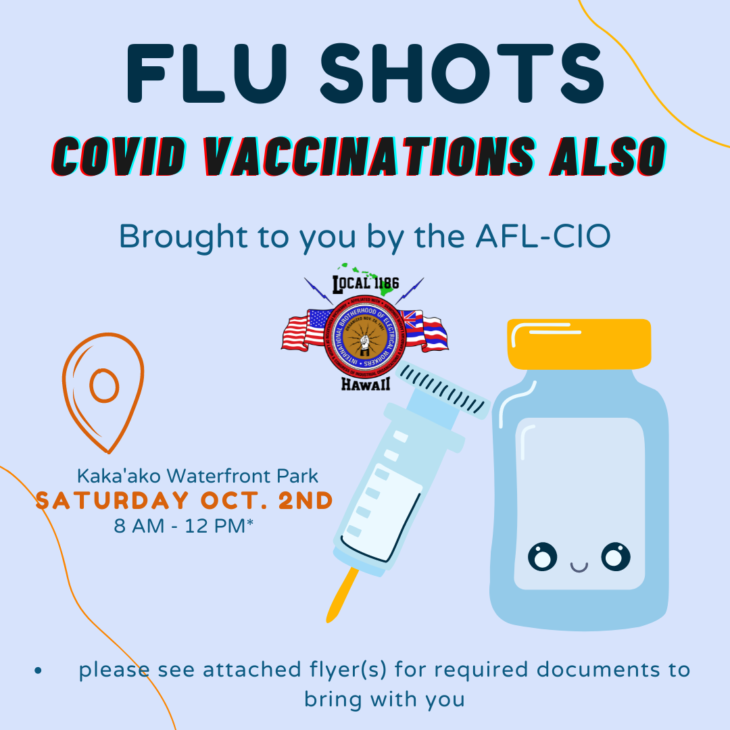 Aloha members, The AFL-CIO and "My Health Solutions" is sponsoring a flu and COVID-19 vaccination drive-thru service on Saturday, October 2, 2021 from 8 AM-12 PM. It will be a on a first-come, first-serve basis and you must wear a mask and bring the following items with you (see below for forms): -Completed flu and/or […]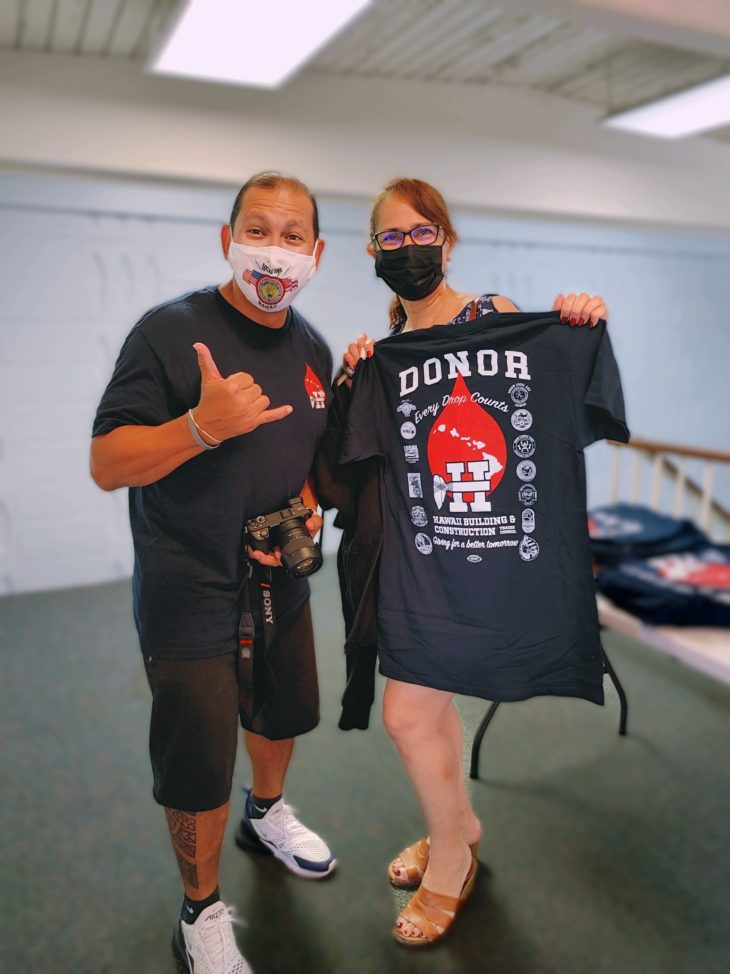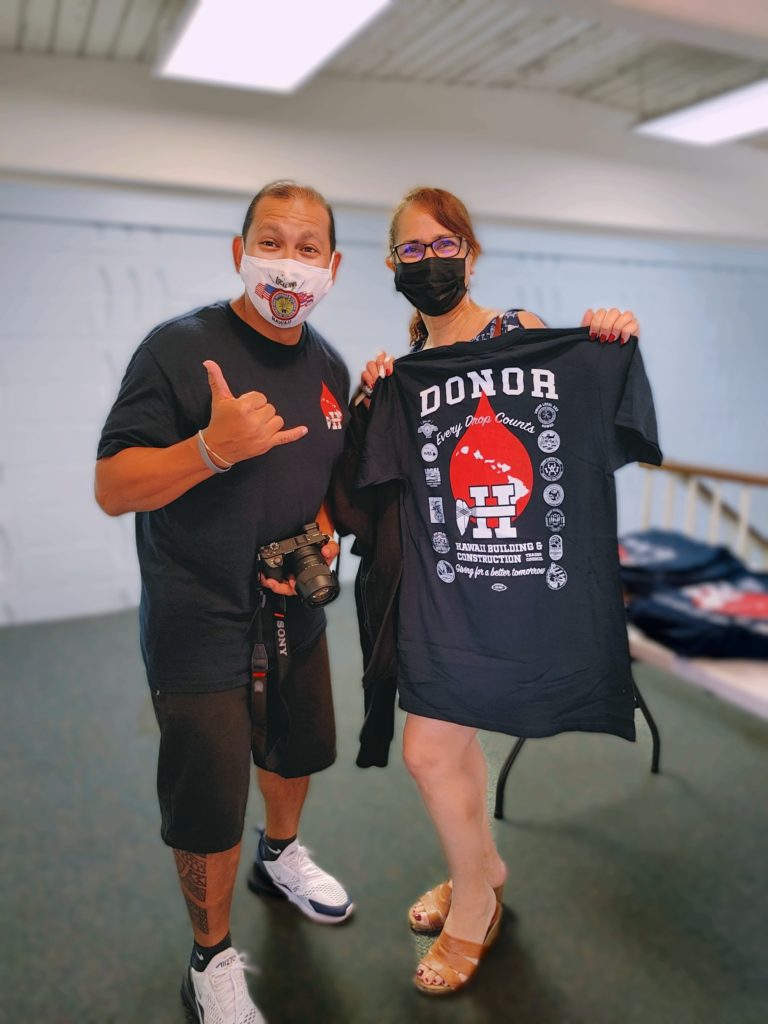 Honolulu-IBEW Local 1186 has been one of the 16 labor unions helping to save lives this summer, as a major participant in the Hawaii Building & Construction Trades Council's (HBCTC) "Every Drop Counts-Giving for a better tomorrow," a collaborative blood drive effort in partnership the Blood Bank of Hawaii (BBH). LG Josh Green came out […]