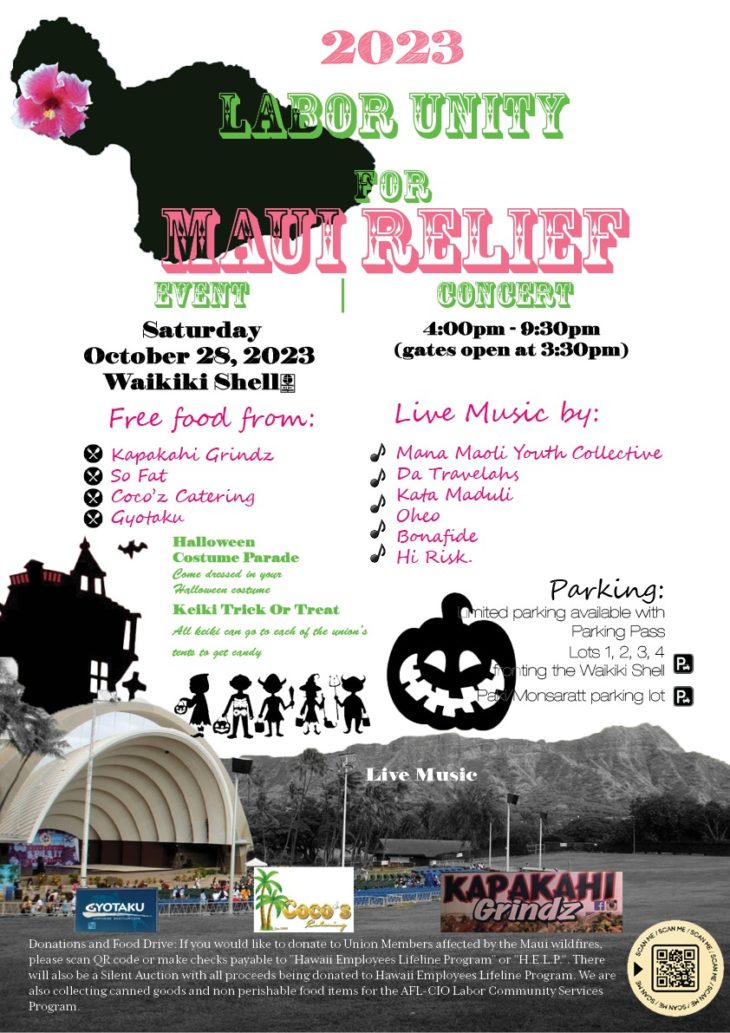 Aloha brothers and sisters! As you know, our regular "Labor Day Unity Picnic" was postponed so that it could be reorganized to benefit Maui relief efforts. The details for the rescheduled event are here! It will be on October 28th at the Waikiki Shell. Please share and make sure if you are an IBEW Local […]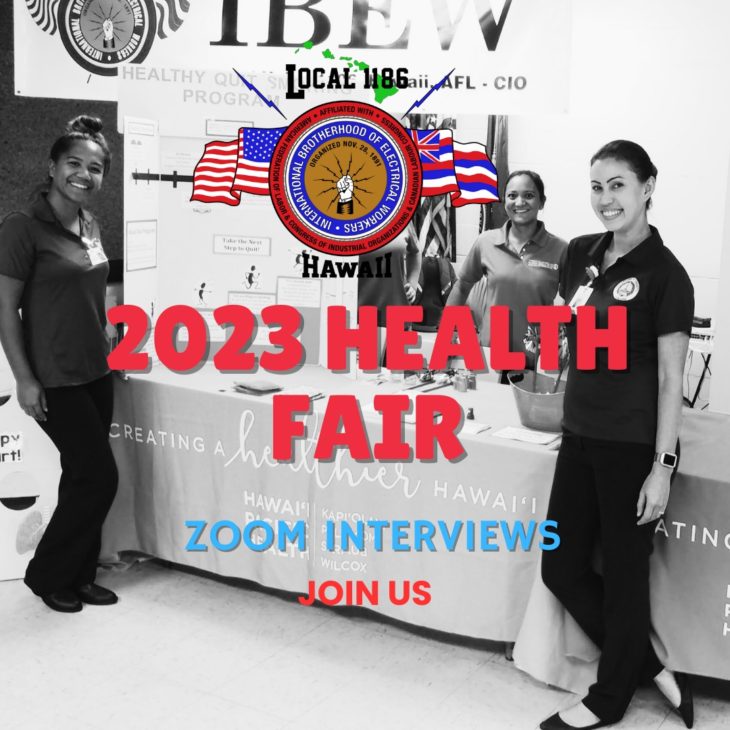 Saturday, September 9, 2023 Honolulu – Can't make it to the hall today? Join us for a few highlights/interviews with Kutmaster Spaz today – click here for the zoom link. There will be live zoom interviews at different times throughout the day! Hope to see you at the Health Fair this morning, but if you […]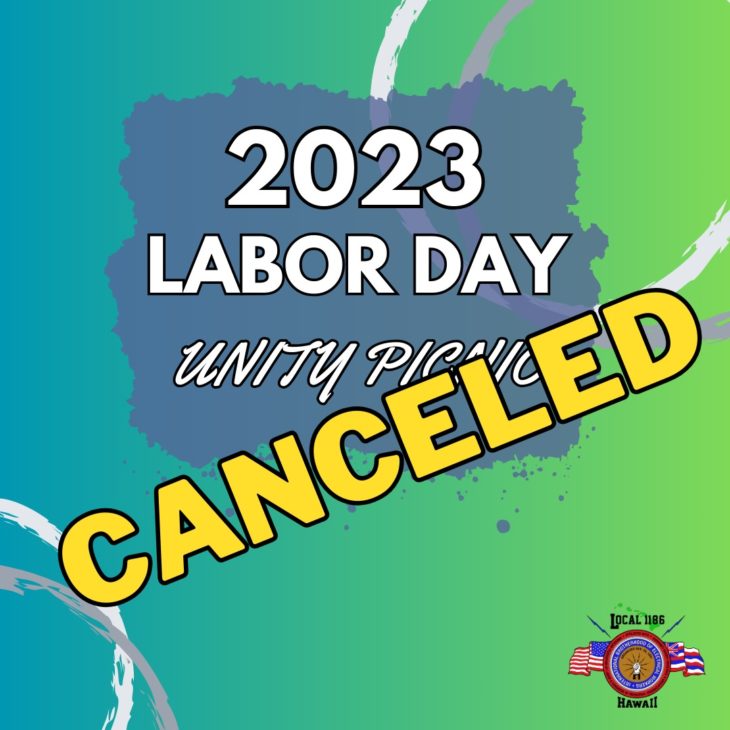 Honolulu – The LUP committee came to a tough decision earlier to cancel the Labor Day Unity Picnic that was to be held on Sunday, September 3, 2023. Instead of the Labor Day Unity Picnic, there will be a Maui Relief Benefit Concert instead to be held on Saturday, October 28, 2023 at the Waikiki […]
**This page will be updated regularly as we aid Maui with relief. August 17, 2023 – Mahalo to all of those who have donated goods and items for Maui residents. At this time we are asking the donations to cease, and instead focus on our GoFundMe link which is down below. August 14, 2023- We […]
Maui-The fires on Maui have wreaked havoc on the community but more so on our members. The fire continues to spread with no end in sight. 1186 is counting on our members to help with donations for our members who lost their homes and all of their belongings. We will be taking donations on anything […]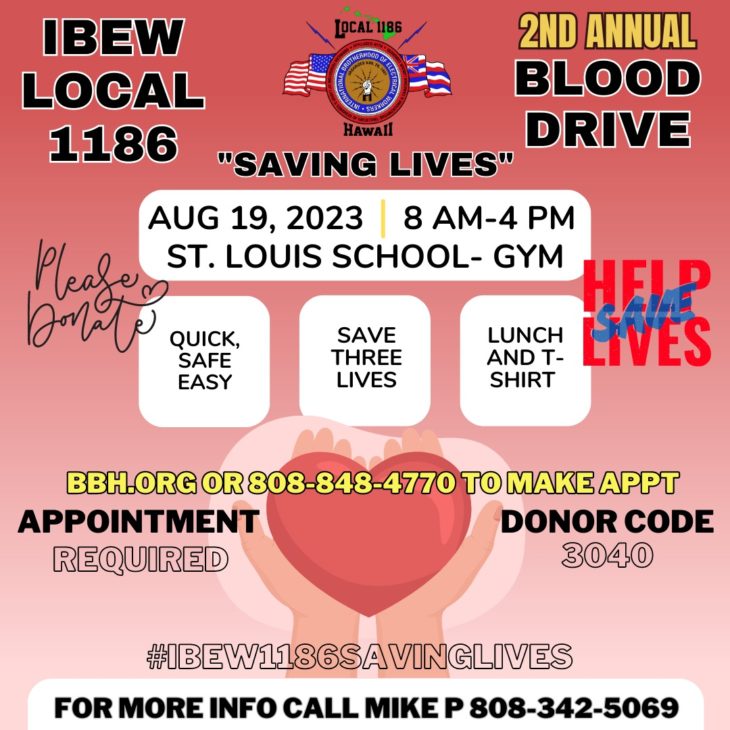 Honolulu – Were you not able to make the last HBCTC "Every Drop Counts" Blood Drive back in June? Or even if you did attend that one, you are eligible to donate again – this time, for our annual IBEW Local 1186 "Saving Lives" Blood Drive happening on Saturday, August 19, 2023 from 8 AM […]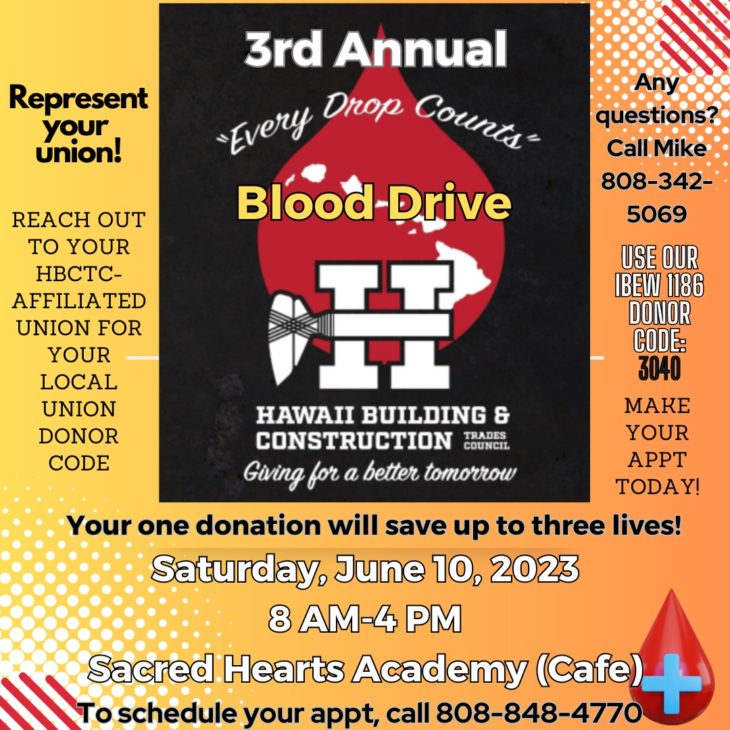 Honolulu-Your kokua is needed! IBEW Local 1186 is taking part in the 3rd Annual Hawaii Building & Construction Trades Council "Every Drop Counts" blood drive on Saturday, June 10, 2023. It will be held in the cafeteria of Sacred Hearts Academy, from 8 AM-4 PM. Appointments can be made by calling the Blood Bank of […]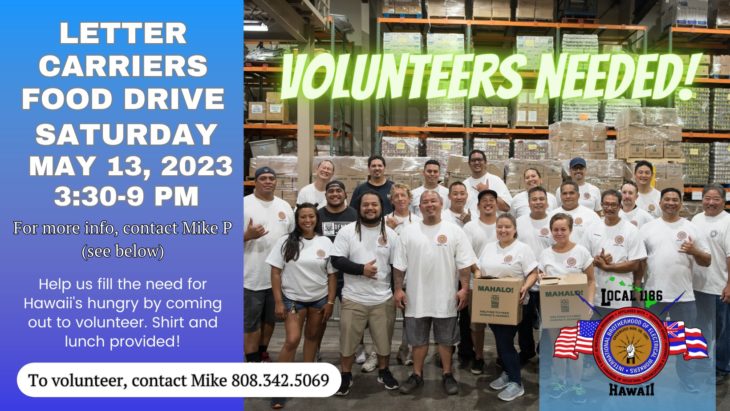 Honolulu – Calling all IBEW Local 1186 members and your family members 14 years old+ (Hawaii Food Bank rules specifies that volunteers under the age of 16 must be accompanied by an adult, no younger than 14 ) for the NALC Food Drive on Saturday, May 13, 2023 at the Hawaii Food Bank from 3:30 […]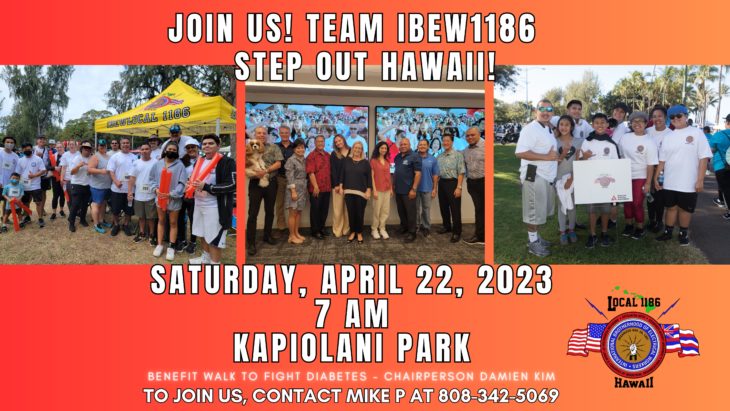 Did you know that in Hawaii, over 410,000 residents, or 1 out of every 2 people are affected by diabetes? And that diabetes by itself is the highest risk for heart disease? Join the fight against diabetes on SATURDAY, APRIL 22nd at 7 AM, by joining "2023 Step Out Hawaii!" a family-friendly 2-mile walk around […]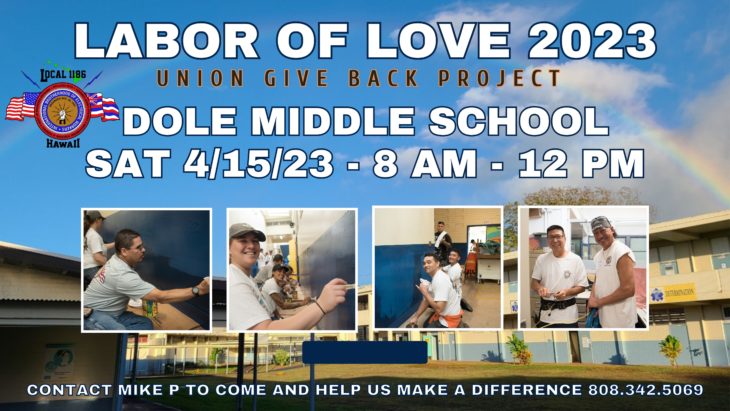 Honolulu – Join us for community service on Saturday 4/15/23 at 7 AM, to help spruce up Dole Middle School with your fellow brothers and sisters – not just in our trade but in other trades as well! Contact Mike P. at 808-342-5069 to join us!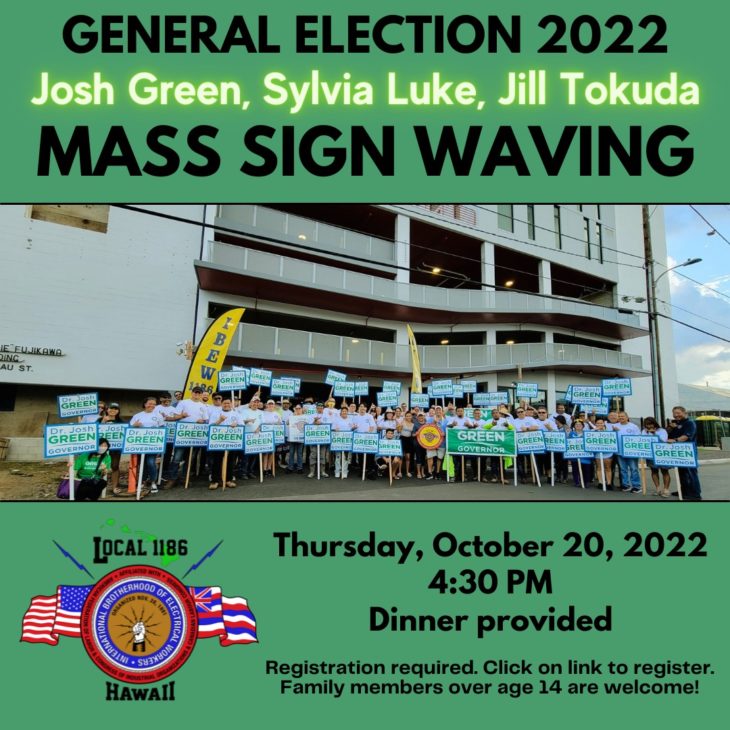 Honolulu-Aloha brothers and sisters! Please join us in support of Josh Green, Sylvia Luke and Jill Tokuda in our last sign-waving before General Election (November 8, 2022). It will be held on Thursday, October 20, 2022 at 4:30 PM. Please feel free to bring your family members (14+ years). Dinner will be provided. Registration is […]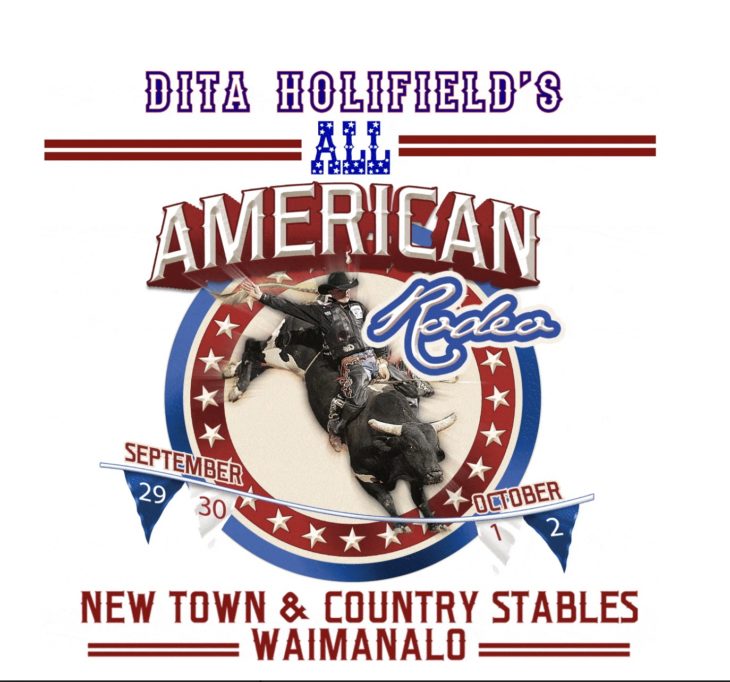 Aloha brothers and sisters, calling all paniolos! Or shall we say "Yee-haw!" In coordination with the Hawaii Building & Construction Trades Council, we are sponsoring Dita Holifield's All-American Rodeo, happening September 29th-30th and October 1-2. See above entry form to enter!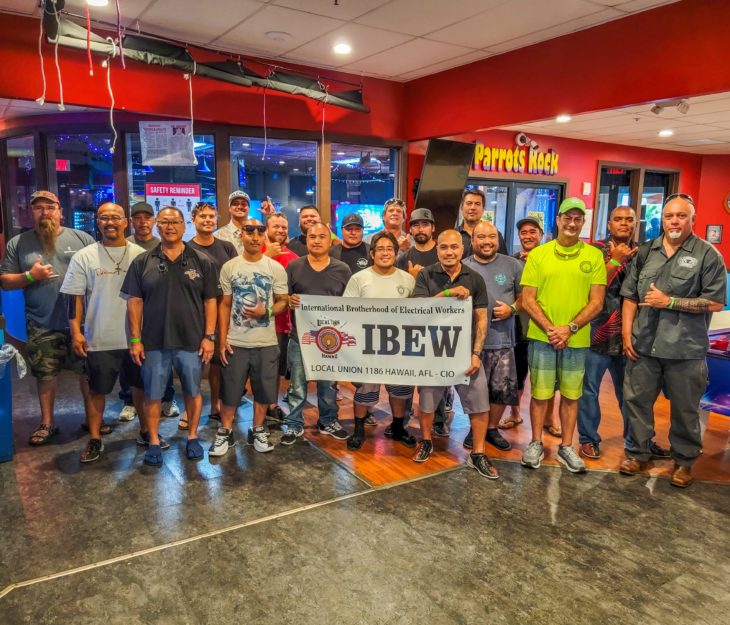 Kona – It was a day of fun, food and bowling at KB Xtreme in Kailua-Kona last week Sunday, and all who attended took something home in terms of a raffle or giveaway! It was so awesome to see faces we had not seen at an IBEW picnic since 2019. Until next time! Check out […]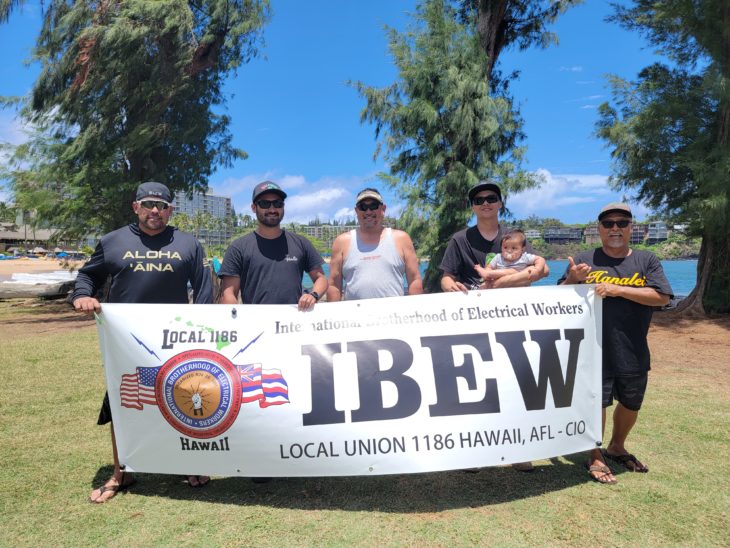 Lihue-Much mahalo to all of our Kauai members that came out for today's Kauai Summer Picnic at Niumalu Canoe Club/Kalapaki Beach! Was so good to see you again! From Cornhole to water balloons to a waterslide and more, fun was had by all! Click here for a video of the day's festivities.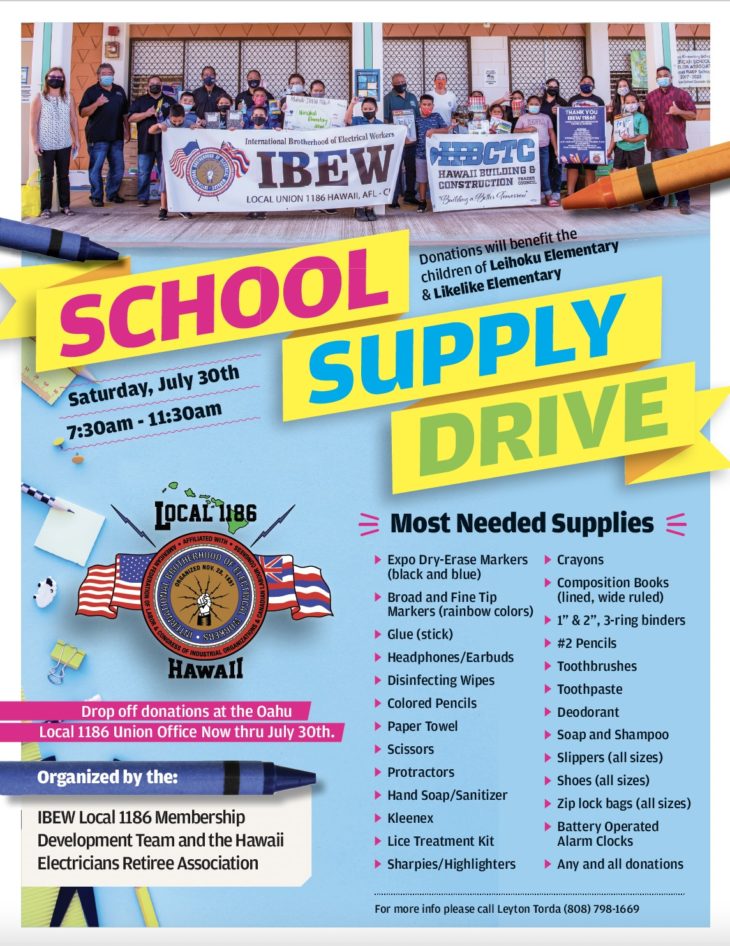 Honolulu-Aloha brothers and sisters! We could really use your help with an upcoming school supplies drive to benefit deserving children from two local elementary schools. You can drop off donations now, anytime until July 30th. See flyer below for more details:
Honolulu-Aloha brothers and sisters, and for those who share this with all of our family, extended family and friends: We have our second annual IBEW LOCAL 1186 "Saving Lives" Blood Drive coming up, on Saturday, August 13, 2022 at St. Louis School! If you have never donated before, and are thinking about it, please make […]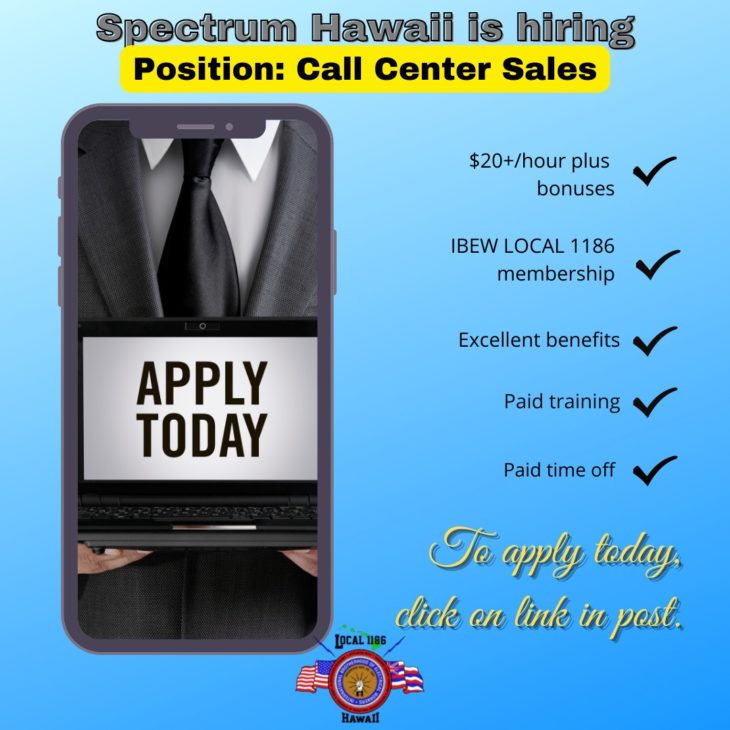 Aloha brothers and sisters, We just wanted to pass along a great opportunity for yourself or for friends and family who are looking for a career opportunity or change. Spectrum, one of our largest signatory contractors, is currently hiring for Call Center Sales. To apply and for more info, click directly on this link.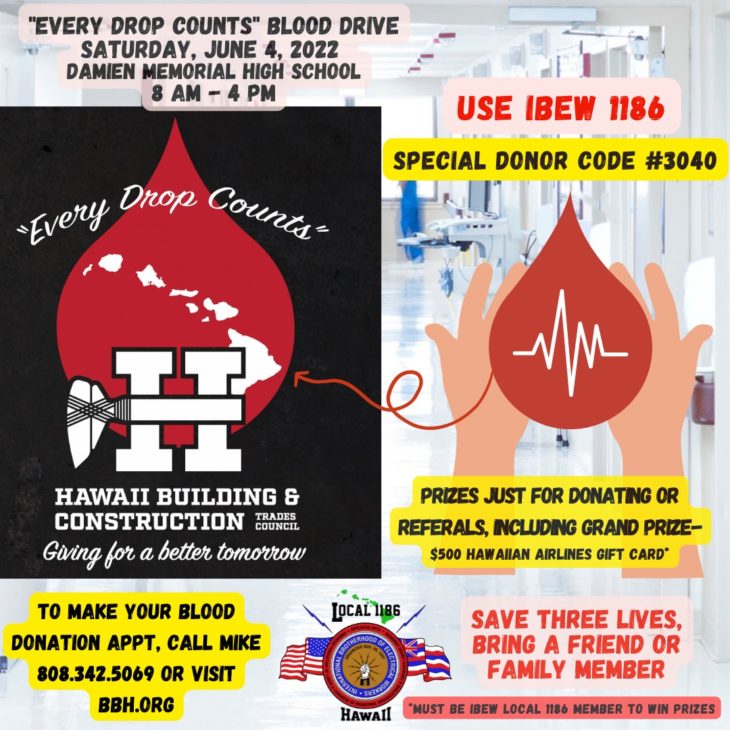 Honolulu – The Hawaii Building and Construction Trades Council (HBCTC), partnering with the Blood Bank of Hawaii (BBH) is hosting their second annual "Every Drop Counts" Blood Drive on Saturday, June 4th, 2022 from 8 AM-4 PM at Damien Memorial High School. Walk-ins are not allowed, so please be sure to schedule your appointment today, […]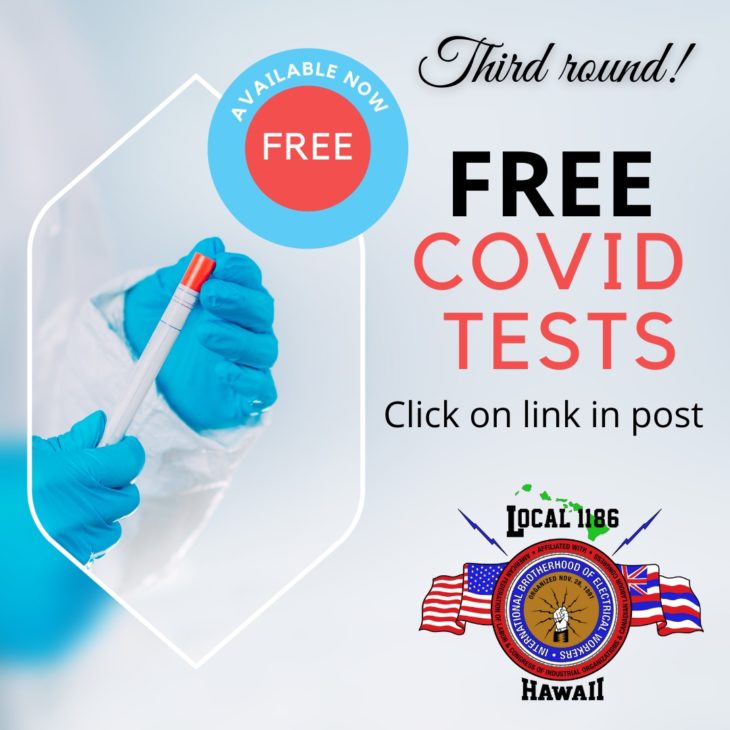 Aloha brothers and sisters, Make sure to order your free COVID-19 tests today. Even if you took advantage of the first two rounds, you can now sign up below for another round of free covid tests to be sent to you. To have free covid tests sent to your mailing address, click here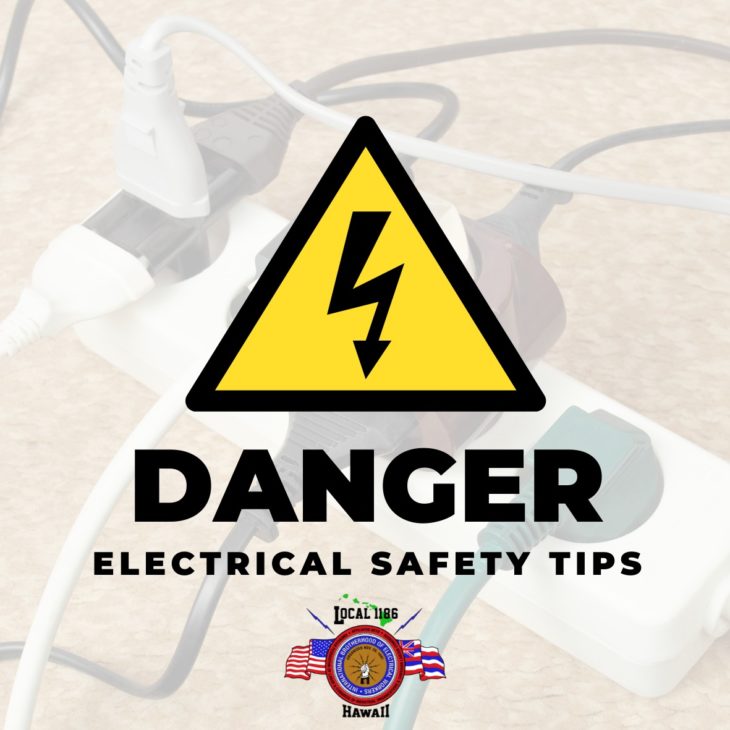 Honolulu-As recently reported on KHON2, Honolulu Fire Department officials have responded to at least a dozen electrical-related fires in 2022 alone. IBEW Local 1186 Business Manager/Financial Secretary Damien Kim says that this is a preventable issue, and issues the following tips: Never overload your power strip. Keep it away from flammable materials. If more outlets […]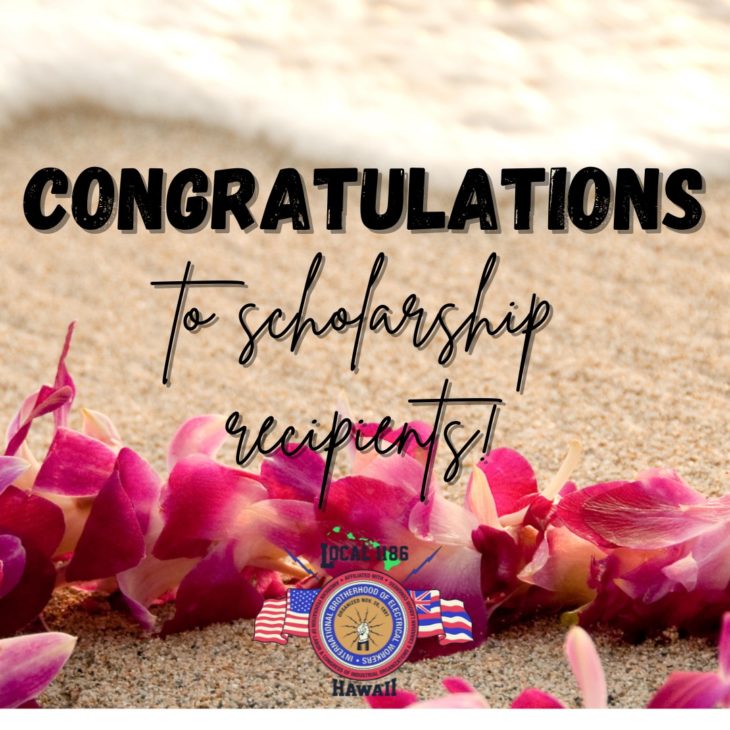 Congrats to the winners of this year's AFL-CIO scholarship. Each winner received $1,000 to be used towards tuition, school books, room, and board, or any other school expenses. The scholarship was open to any graduating senior and having a family member in a union is not a requirement. Best of luck in your future educational […]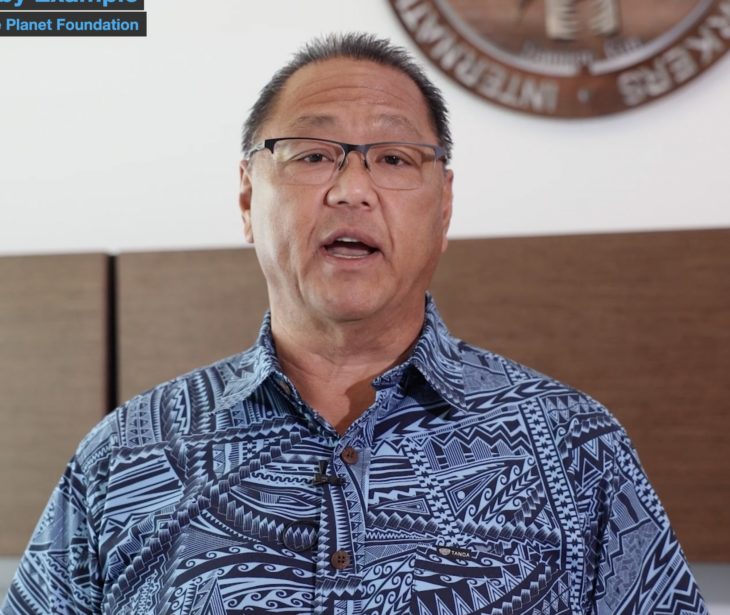 From Blue Planet Foundation: "State buildings are one of the largest electricity users in our islands. It's time for new policy to direct the state to put energy efficiency to work reducing emissions, saving money, and creating jobs. This is especially important now as energy prices are rising across the world. This measure will also […]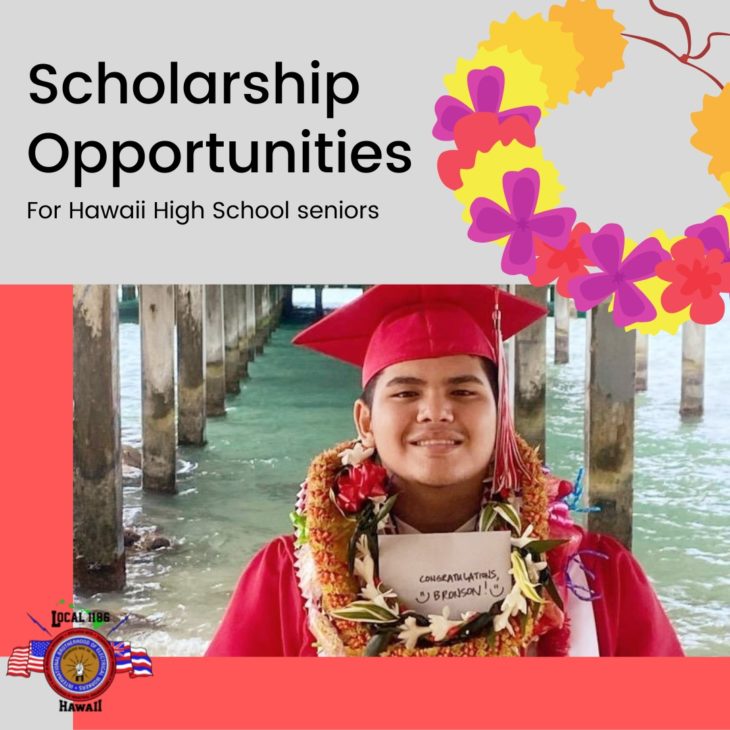 Aloha brothers and sisters, This is for the Senior class of 2022 and this post will be updated with any scholarship opportunities as they become available. Good luck!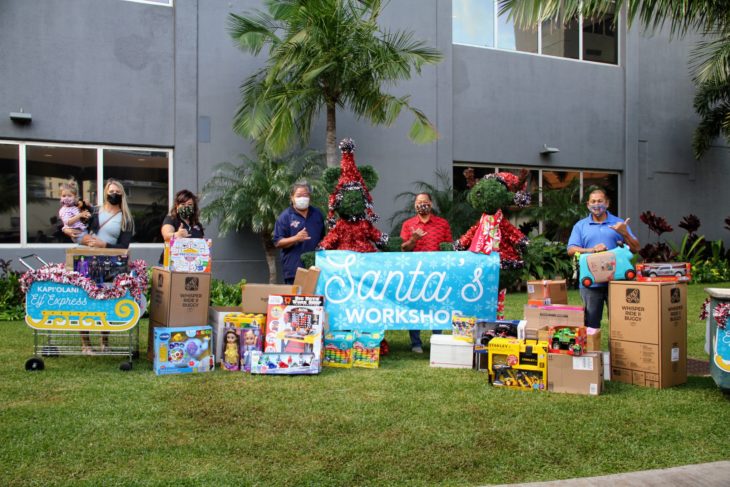 Honolulu – Staff of IBEW Local 1186, the Hawaii Electricians Training Fund, Hawaii Electricians Administrative Office, and HEMEP's Compliance Office helped to make Christmas brighter for a few families that would have to remain in the hospital over the holidays. Each year, employees choose a charitable cause and this year, chose "Santa's Workshop" as part […]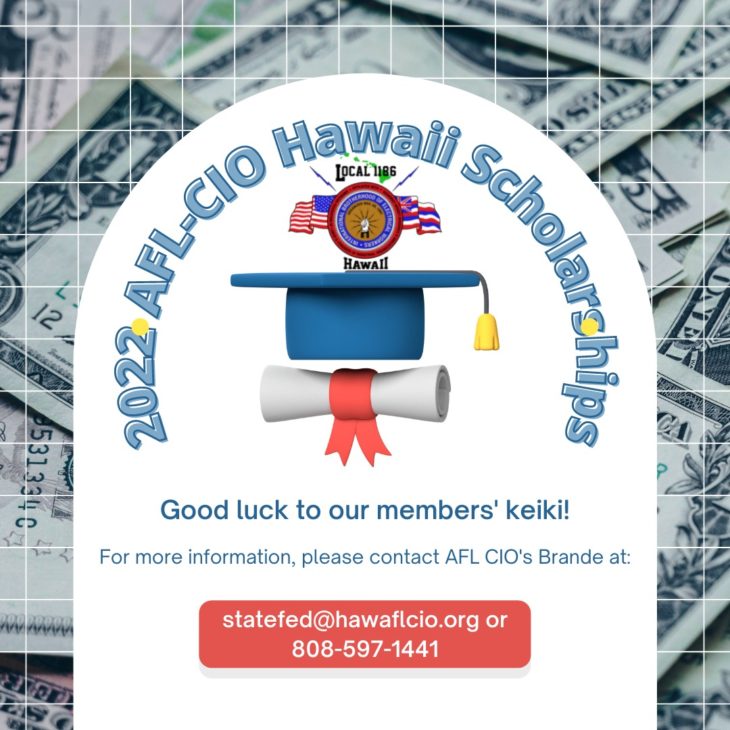 Aloha members, Please see the attached for more information regarding the AFL-CIO scholarships which will be awarded to three high school seniors. Please direct all questions to AFL-CIO's Brande Kahalewai via email or phone at 808-597-1441. Mark down the deadline in your calendar, and good luck!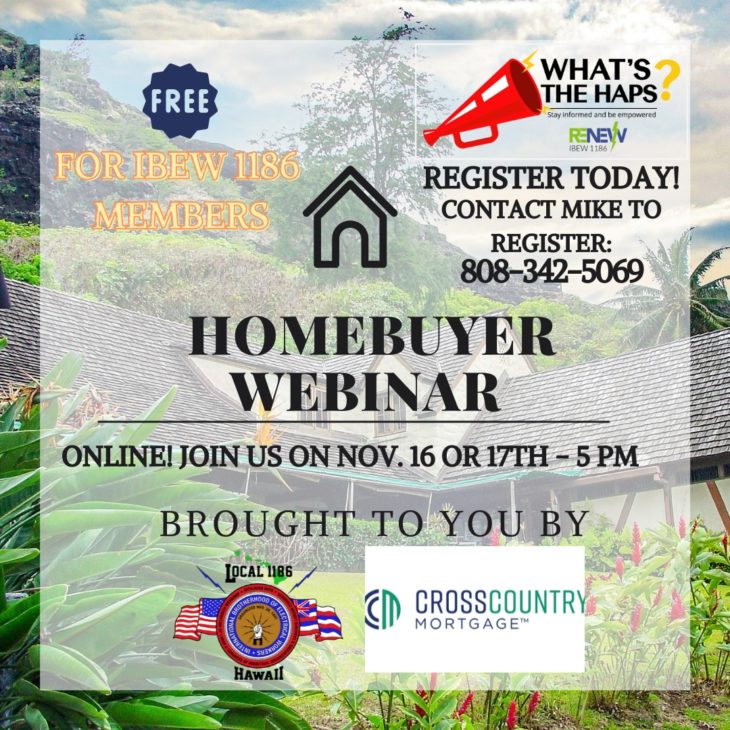 Aloha members, Have you registered for our "What's the haps" November Homebuyer Webinar? If not make sure to contact Mike (see phone # on graphic) to do so! Get your questions answered and find out some very valuable information. Hope to "see" you there! Also, if these times/dates don't work for you, please be sure […]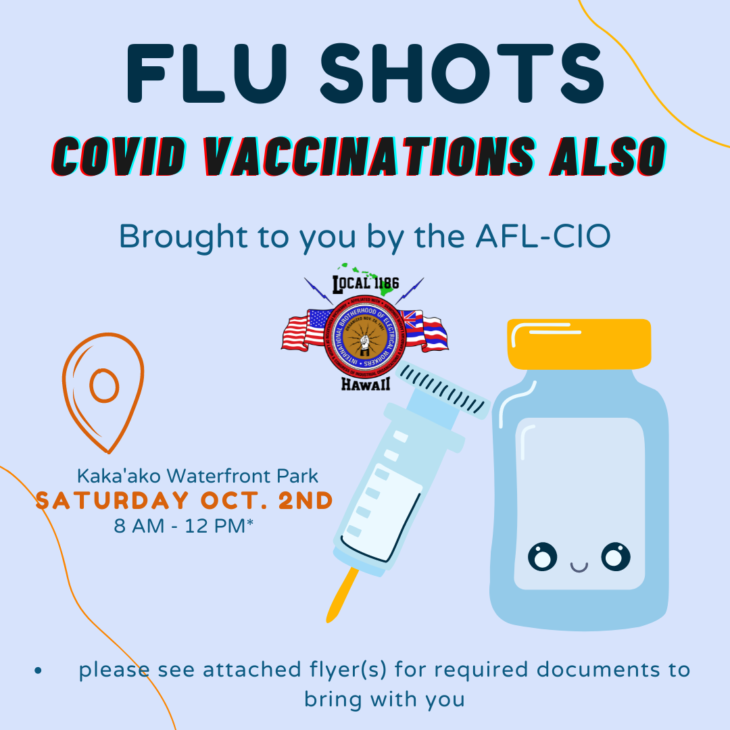 Aloha members, The AFL-CIO and "My Health Solutions" is sponsoring a flu and COVID-19 vaccination drive-thru service on Saturday, October 2, 2021 from 8 AM-12 PM. It will be a on a first-come, first-serve basis and you must wear a mask and bring the following items with you (see below for forms): -Completed flu and/or […]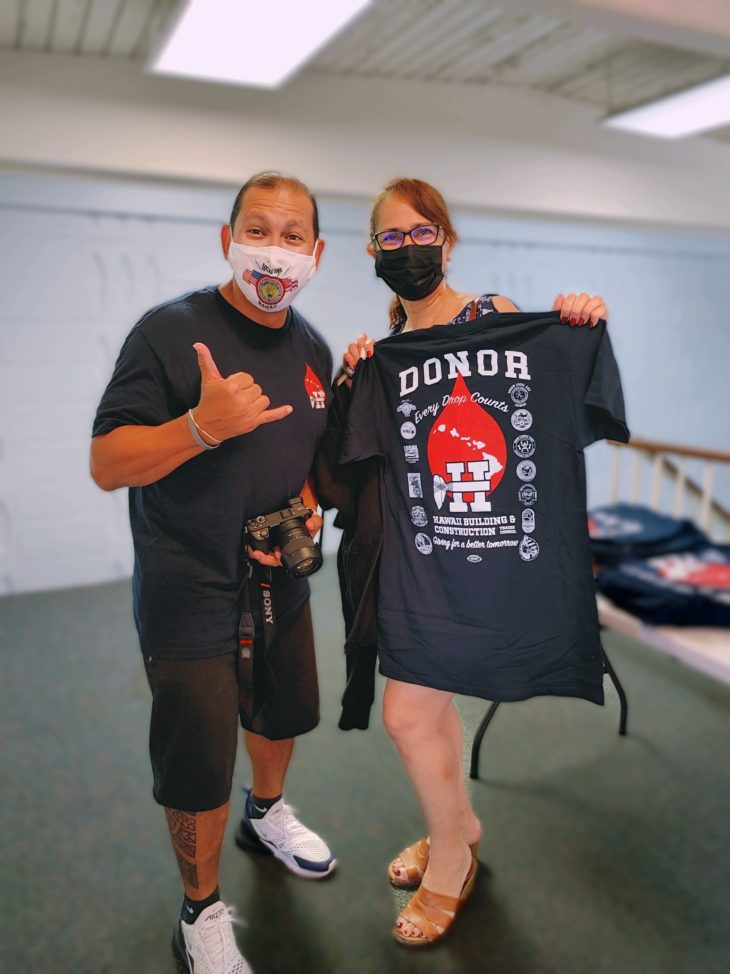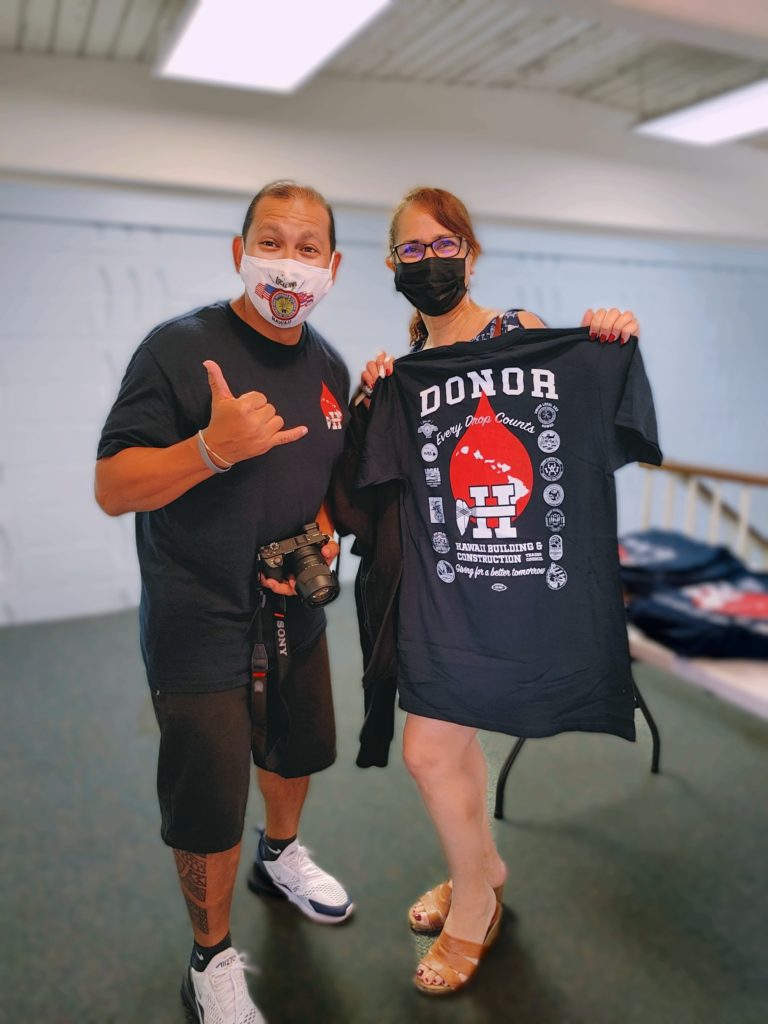 Honolulu-IBEW Local 1186 has been one of the 16 labor unions helping to save lives this summer, as a major participant in the Hawaii Building & Construction Trades Council's (HBCTC) "Every Drop Counts-Giving for a better tomorrow," a collaborative blood drive effort in partnership the Blood Bank of Hawaii (BBH). LG Josh Green came out […]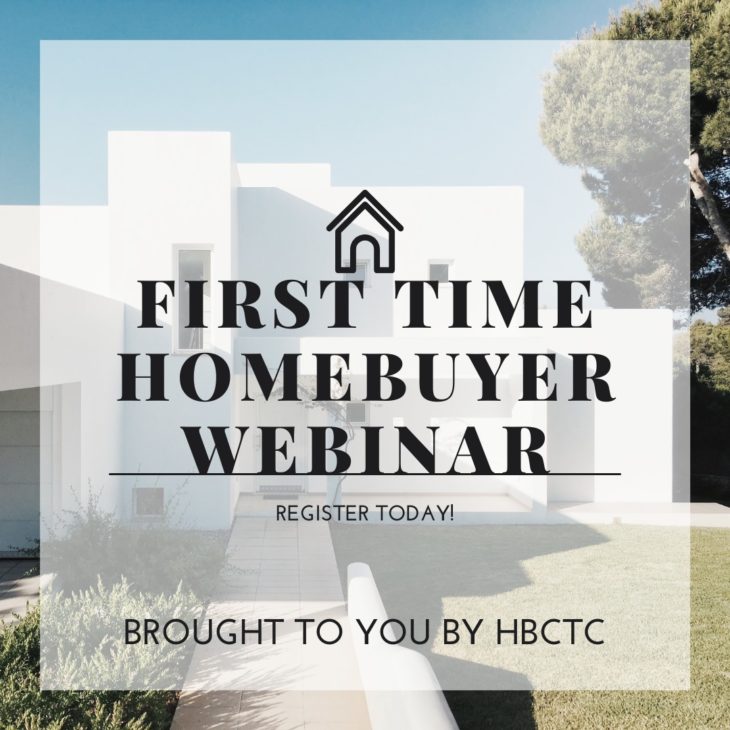 Aloha members, Please join us for a free first-time homebuyer webinar happening August 17th at 6-7 PM, brought to you by the Hawaii Building and Construction Trades Council (HBCTC). To register, contact Gino from HBCTC at gino@hbctc.org.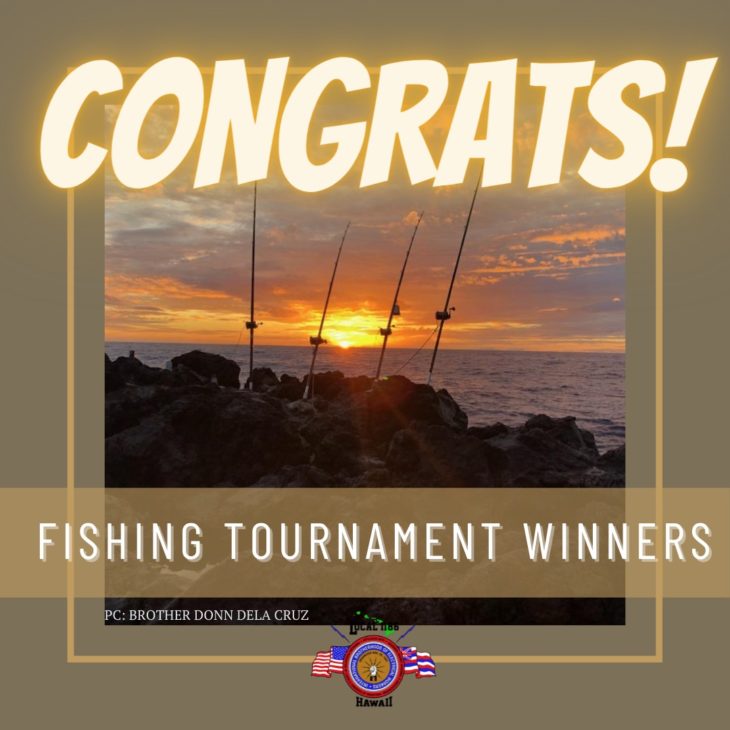 Mahalo to all who entered our first annual statewide shoreline fishing event! Congrats goes to the following winners: BIG ISLAND: 1st: Robert "Lopaka" Wilson (30.8 lb ulua) 2nd: Jeffrey Sibayton (2.2 lb mu) BIG ISLAND 'OHANA: 1st: Kobi Wilson, 8 (9.2 oz papio) 2nd: Yumi Fukunaga, 10 (3.7 oz moana) 3rd: Emi Fukunaga, 4 (3.5 […]