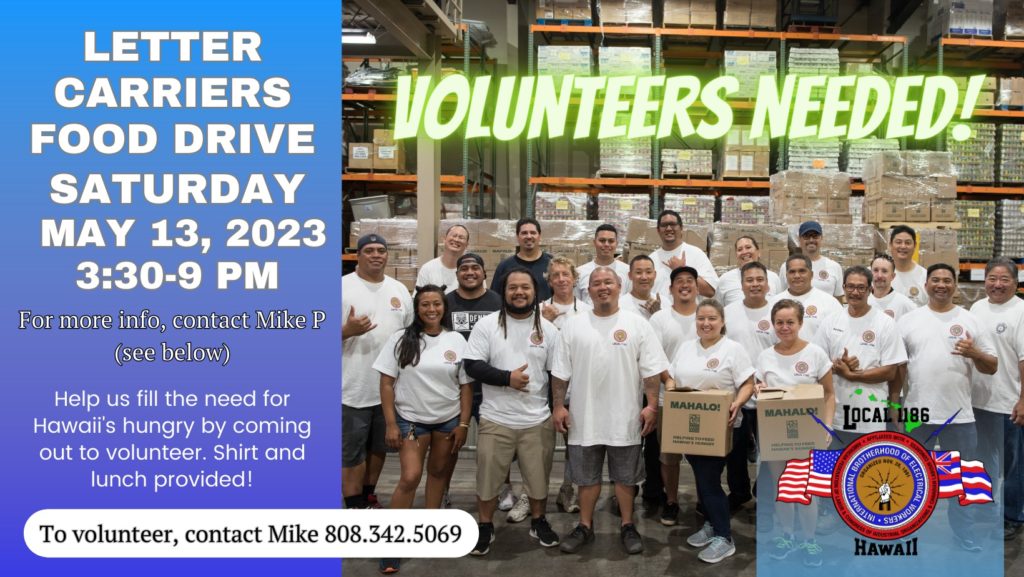 Honolulu – Calling all IBEW Local 1186 members and your family members 14 years old+ (Hawaii Food Bank rules specifies that volunteers under the age of 16 must be accompanied by an adult, no younger than 14 ) for the NALC Food Drive on Saturday, May 13, 2023 at the Hawaii Food Bank from 3:30 – 9:00 PM. This is the first time this will be happening since the onset of the pandemic, so we need all hands on deck.
Address:
2611 Kilihau Street, Honolulu, HI 96819
Parking is limited, please car pool if possible
WHEN: May 13, 2023 from 3:30-9:00 p.m.
3:30-9 PM. Shifts are needed more for the last shift (5:45-9 PM) but they will take what they can. More info below:
Volunteer Shifts-Dinner will be served at 6 p.m.*
3:30-9:00 p.m. (we need this shift the most)
3:30-6:00 p.m.
5:45-9:00 p.m.
To volunteer, please click on this link by May 5th, and for any questions, contact Mike P. at 808-342-5069.