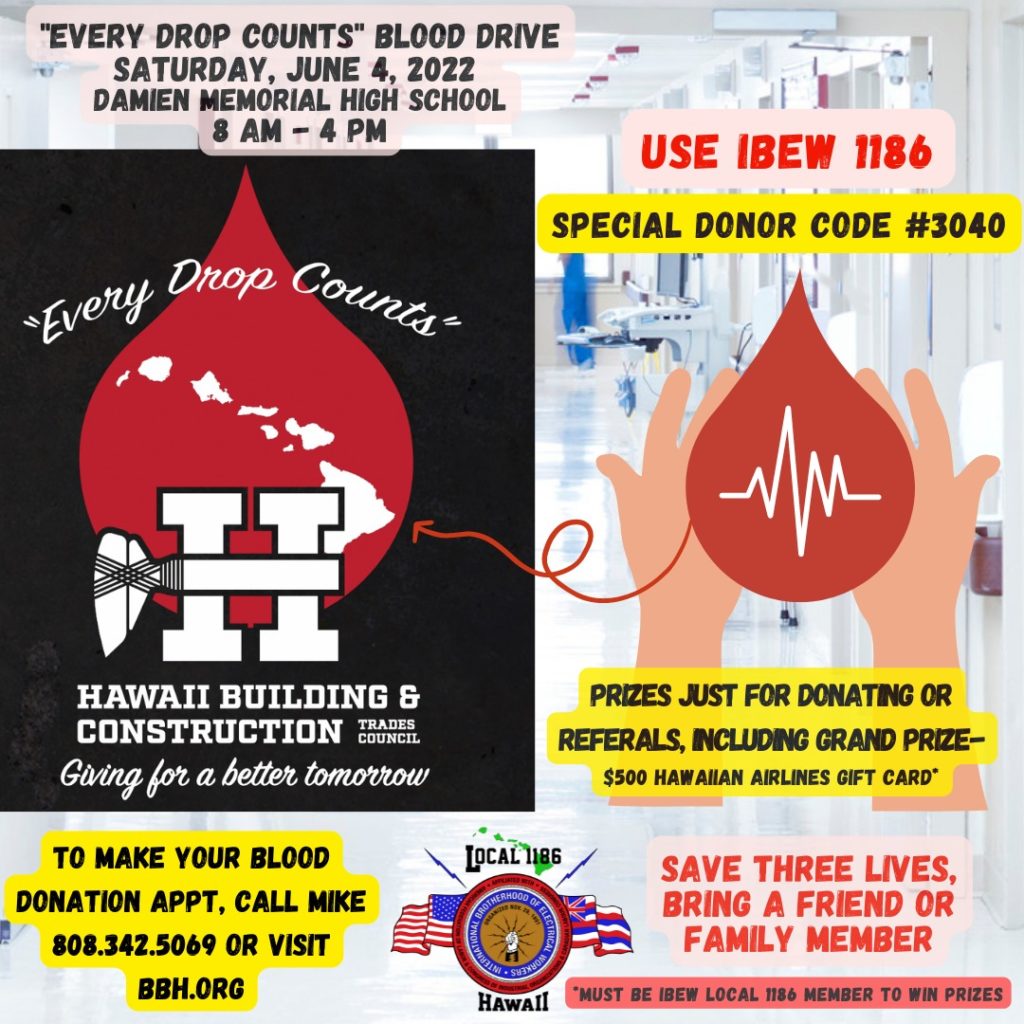 Honolulu – The Hawaii Building and Construction Trades Council (HBCTC), partnering with the Blood Bank of Hawaii (BBH) is hosting their second annual "Every Drop Counts" Blood Drive on Saturday, June 4th, 2022 from 8 AM-4 PM at Damien Memorial High School. Walk-ins are not allowed, so please be sure to schedule your appointment today, so that you can not only save up to three lives with your one blood donation, but also be entered to win amazing prizes, just for making an appointment. You will also get extra entries to the prize entries for simply referring your friends and family members. All they need to do is call Mike Pacheco at 808.342.5069 and mention your name, and schedule their appointment. If you or your referrals are deferred and cannot for some reason donate that day, you will still be entered to win!*
Please note, IBEW Local 1186 is hosting our own Blood Drive in August, so if you donate on June 4th, you will still be able to donate in the IBEW Local 1186 Blood Drive. Please help BBH and HBCTC save lives this summer! You can donate blood if you take most medications, had your covid vaccine(s), and also had a tattoo at a licensed tattoo shop.
*To be entered into the prize giveaway, you simply need to be a member of IBEW Local 1186 and make an appointment for your blood donation and make sure to use donor code #3040 if donating online. If you call Mike Pacheco at 808-342-5069, Grand prize is a $500 gift card to Hawaiian Airlines.
Some facts from the Blood Bank of Hawaii:
Blood Bank of Hawaii needs 200 donors every day to maintain Hawaii's blood supply.
• One donation of whole blood can save three lives.
• A single car accident can require up to 100 pints of blood.
• There is a national shortage of blood donors, so we need to build our resilience with a consistent local supply.