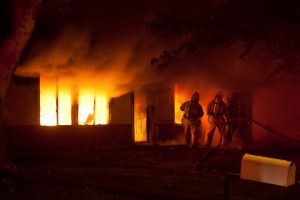 Honolulu, HI – On the evening of Wednesday, March 8th, a huge fire damaged or destroyed six separate homes in the McCully area. Ironically, one of the homes involved in the fire was a home that our IBEW Local 1186 volunteers, partnering with the Honolulu Fire Department, went to install smoke alarms at, back in 2010.  It was while Fire Captain David Jenkins was on the scene of the actual fire, that a person approached him to tell him that one of the homes involved in the fire was his late mother's home.  "Her home was one of the original homes to receive smoke alarms from the SAFE Program. The man's sister, the current occupant of the late mother's home, heard the alarms and alerted his sister, of the raging fire next door, and she was able to escape her home without injury," said Jenkins.  He went on to say that the man was appreciative of the SAFE program and the service and alarms it provided.
While there were no reported injuries or deaths, Honolulu Fire Department investigators found that the fire was intentionally set in the blaze that started in a two-story, single family dwelling. That home turned out to be a total loss. There were a total of  five neighboring homes affected that also had damage to their homes totaling an additional $460,000.  Total of property damage including structure and contents came out to $2.36 million, and while the fire was swiftly put out, the rebuild and repair will continue to go on for some time for the homes involved. 
To make sure that your home with elderly residents or children have a working smoke alarm, make sure to sign up for our next SAFE program.