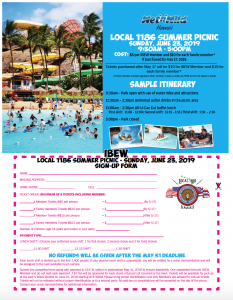 Aloha members,
You should have gotten an Oahu Summer Picnic Registration/Payment form in last month's newsletter – so if you haven't already, please be sure to check your mail and open it up to page 5, where you will see the registration form as well as payment voucher to reserve your spots today!
By 5/17: Early bird pricing is $5 for member/$10 for each family member (max of eight tickets per member)
After 5/17-5/31: Regular pricing is $10 for member/$15 for each family member.
Hope to see you there!
###